WHY COMPLIANCE SOFTWARE MATTERS
Benefits you can't afford to miss
All businesses must adhere to regulatory standards. But why use software to meet expectations?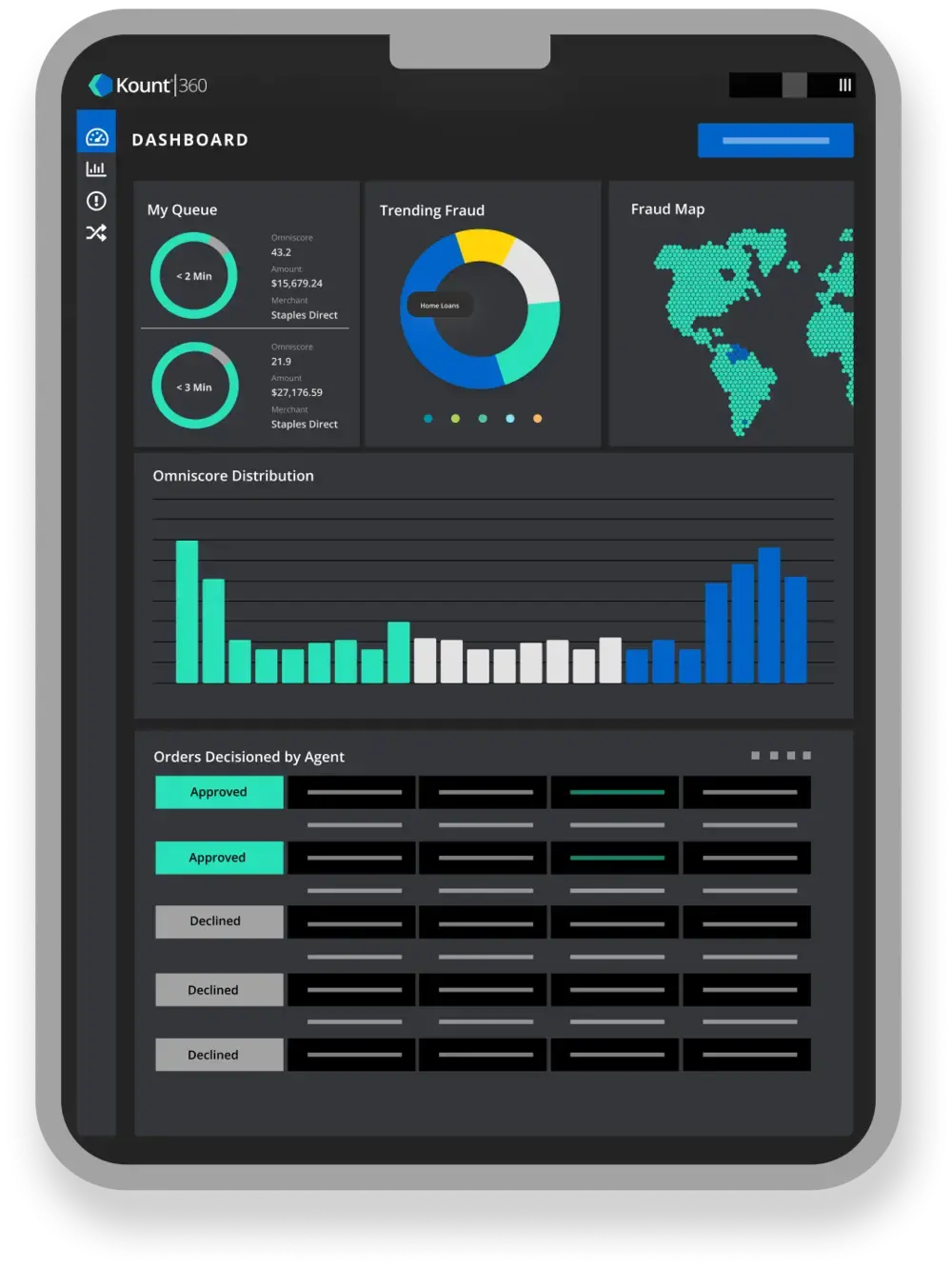 Increase efficiency
Technology replaces time-consuming, manual processes with efficient automation.
Reduce costs
Outsourcing responsibilities to industry experts costs less than completing tasks in house.
Know your customers
Data insights fulfill requirements, but they also help you strategically grow your business.
Prevent terrorism
Greater decision accuracy ensures you do your part to stop terrorist-related activities.
Avoid scrutiny
Proven-effective solutions reduce the risk of scrutiny from regulators and auditors.
WHAT'S INCLUDED
Everything you need. All in one place.
Kount combines Equifax regulatory compliance software with cutting-edge trust and safety technology. Our complete strategy makes it easy to create compliance processes that adhere to applicable laws.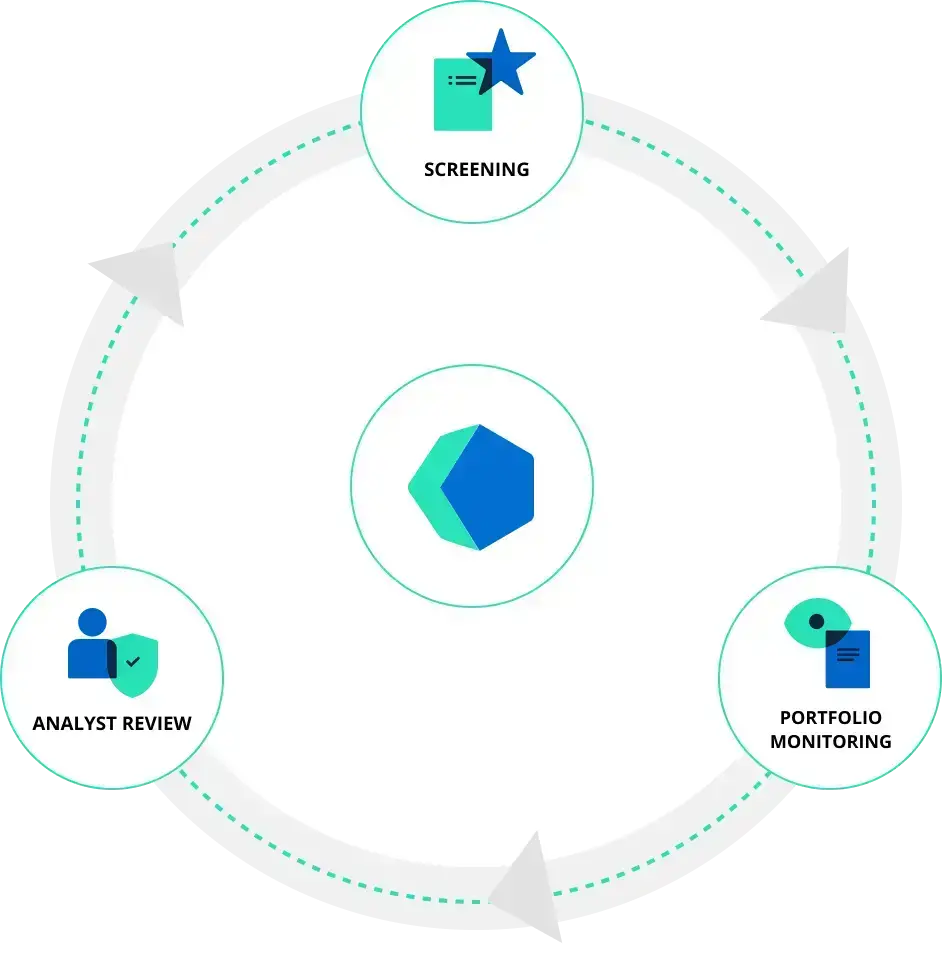 Additional solutions for greater protection
Kount makes it easy to combine solutions and achieve maximum protection with the greatest efficiency possible. With simple, flexible integrations, you can both manage compliance and support your broader onboarding needs — account opening due diligence, identity verification, credit reporting, and much more.
WHY KOUNT FOR COMPLIANCE
Added value achieves better results
Why should you use Kount's compliance management software? Here's what sets us apart from any other strategy.
Complete strategy
Rather than use a different vendor for each of your trust and safety needs, let Kount provide you with end-to-end protection. Whatever challenges you are dealing with, we have a solution. Our complete strategy can help you achieve all your regulatory compliance goals.
Advanced technology
Our unique combination of proprietary data, machine learning, and efficient automation makes it easy to meet regulatory requirements. And because Kount technology is flexible, our solutions will work with your existing business processes, resources, and abilities.
Proven expertise
With decades of global experience, data, and insights, we know exactly what it takes to grow your business safely and confidently. Our experts can even become an extension of your existing management system, freeing your team from the time-consuming process of alert reviews.
UNIQUE FEATURES
Data-driven accuracy
Kount compliance results are driven by immense amounts of data you won't find anywhere else.
Office of Foreign Assets Control (OFAC) and U.S. Treasury
Bureau of Industry & Securities
U.S. Customs
Federal Reserve
Department of Justice
FinCEN
Federal Bureau of Investigation (FBI)
Bureau of Industry Standards (BIS)
Central Intelligence Agency (CIA) Chiefs of State
International government agencies and organizations such as:
United Nations (UN) Security Council
Organization for Economic Co-Operation and Development (OECD)
HMT (Bank of England)
European Union List
Interpol
World Bank
International and domestic publications such as: 
Periodicals
Association magazines,
Newspapers, TV and radio transcripts
Press releases from U.S. Marshals Service, Department of Justice, Office of Attorney General, etc.
Major risk categories monitored for adverse media:
OFAC
Terrorism
Financial crimes
Money laundering and tax evasion
Racketeering and organized crime
Fraud (tax fraud, financial fraud, insurance fraud)
Trafficking and smuggling
U.S. and global most wanted
Embezzlement
Theft
Securities fraud
Bankruptcy
Murder
Gang and drug cartel
Import and export issues
Identity fraud
Corruption
Forgery
Counterfeiting
Business practice violations
Bribery 
Extortion
Graft
Espionage
Crimes against children
Crimes against elderly
Watchlist of public figures, their relatives, and their close associates in the following categories:
Heads and deputies of state and national governments
National government ministers
Members of the national legislature
Senior civil servants of national governments
Senior civil servants of regional governments
Embassy & consular staff
Senior members of the armed forces
Senior members of the police services
Senior members of the secret services
Senior members of the judiciary
State corporation executives
State agency officials
Heads and deputy heads of regional governments
Regional government ministers
Religious leaders
Political party officials
International organization officials
City mayors
Political pressure and labor group officials
National NGO officials
Local public officials
International sporting organization officials
Kount reduces the risk of false positives by applying additional screening to third-party data. 
Refine results from adverse media analysis to ensure relevance for financial crimes
Review state attorney general press releases that aren't picked up my mainstream media
TESTIMONIALS
What our clients are saying
"Implementing the Kount fraud solution was very simple. And achieving these great results in such a short time has exceeded our expectations."
"Implementing the Kount fraud solution was very simple. And achieving these great results in such a short time has exceeded our expectations."
"Kount is a one-stop fraud prevention system. You don't have to worry about figuring out what other systems you might need. Kount does it all."
"The best thing about Kount is its versatility. Using counter functions, custom data fields, and a robust dataset — it's possible to customize fraud screening to your specific needs, targeting traffic that is truly high-risk."
Stuart W.
Lead E-Commerce Fraud Analyst
GET STARTED TODAY
Exceed regulatory expectations with Kount
Thousands of companies from all over the world use Kount for a complete trust and safety strategy. Will you be next? Sign up for a demo today, and see what it's like to have confidence in every interaction.