PORTFOLIO MONITORING AT KOUNT
How regulatory reporting works
How does Kount use regulatory reporting to monitor the evolving risk of your portfolio?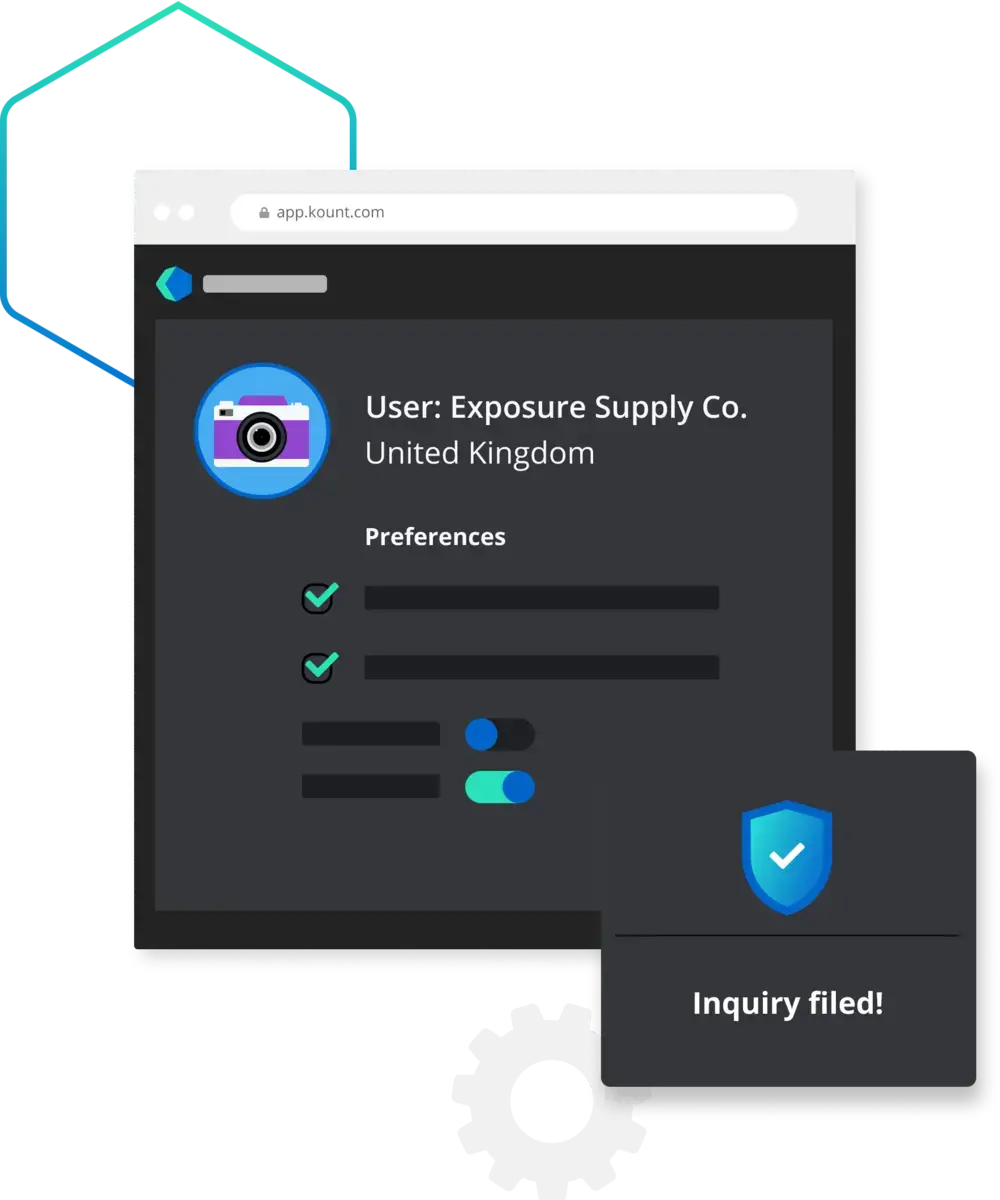 1.
Portfolio is built.
During the onboarding process, Kount conducts an initial screening of your data. Customer risk profiles are created and added to a portfolio that is loaded into a confidential database. 
2.
Inquiries are sent.
Requests to check new accounts for financial crimes are sent either via an API or batch upload. 
3.
Risk is assessed.
The technology checks dozens of sanction lists, adverse media, and politically exposed persons (PEPs) databases to evaluate potential risk. 
4.
Monitoring continues.
The portfolio is screened daily for any watchlist changes. Records are updated to ensure accuracy throughout the customer lifecycle.
5.
Business growth is secure.
Our risk-based approach ensures ongoing compliance for know your customer (KYC), enhanced due diligence (EDD), and more. Constant monitoring means your business grows confidently and securely.
WHY REGULATORY REPORTING MATTERS
Benefits you can't afford to miss
Consulting regulatory reporting and sanctions lists is important, but why do you need ongoing portfolio monitoring? Can't you just periodically analyze your database whenever it seems relevant? Here is what happens if you make continuous monitoring a priority — and what happens if you don't. 
WITHOUT portfolio monitoring
Labor-intensive and redundant 
Undetected risk
Gaps in coverage
Unexpected penalties and fines
Shortened business longevity
WITH portfolio monitoring
Efficient and accurate
Complete protection
Ongoing compliance
Positive cash flow
Sustainable business growth
WHAT MAKES KOUNT SPECIAL
Added value achieves better results
Why use Kount for regulatory reporting and portfolio monitoring? Here's what sets us apart from any other strategy. 
Ongoing monitoring
Other strategies only screen your data twice a year. But at Kount, we maintain an active portfolio that is screened daily. By constantly monitoring dozens of trusted databases, you'll always be in compliance with regulatory expectations.
Better data
Kount is integrated with all the top data providers. But our analysis also incorporates proprietary Equifax compliance screening. Refining results before they are loaded into our database provides a more accurate analysis with fewer false positives.  
Complete strategy
Don't let your data be segmented across different platforms. Kount is an end-to-end strategy that not only offers complete protection, but also uses continuous data analysis to identify opportunities that could increase revenue with existing and potential customers. 
Less friction
Ongoing monitoring means risk assessments are always up-to-date so you can do more business with your good customers — and less with the bad. Confidently provide an enjoyable customer experience without any unnecessary friction. 
"Fraud trends continue to evolve and become more complex. Kount helps quickly identify these trends and routinely adapts as needed. The close partnership has also allowed us to understand new fraud trends before they impact our company and allow us to be proactive in many cases rather than taking a reactive approach."
Reviewed by Rowdy D. on Capterra
GET STARTED TODAY
Protect your business with portfolio monitoring
Thousands of companies from all over the world use Kount for a complete trust and safety strategy. Will you be next? Sign up for a demo today, and see what it's like to have confidence in every interaction.