BUSINESS POLICIES WITH KOUNT
How business policies influence outcomes
Trust and safety decisions are based on business policies. You set the rules and the technology will get to work.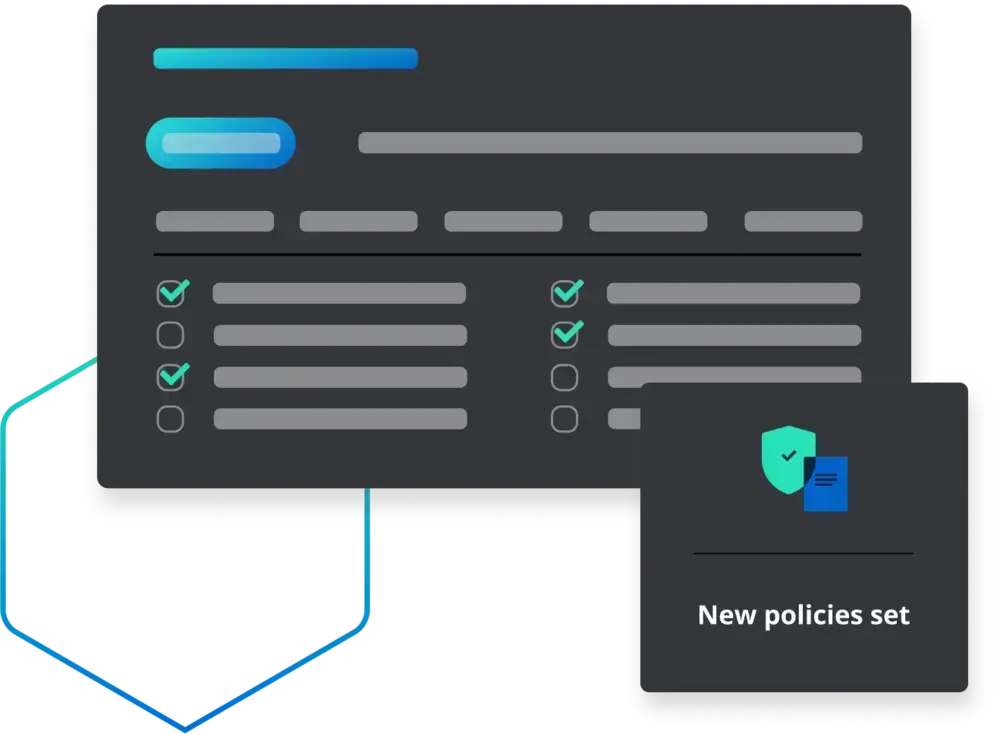 1.
Needs are determined.
Our experts will help you identify the best approach — high-touch, set-it-and-forget-it, or somewhere in between.
2.
Policies are set.
Pick the variables you want to monitor, the acceptable risk thresholds, and the desired actions. 
3.
Decisions are made.
The technology reviews interactions and makes decisions based on your established policies. 
4.
Policies are updated.
Policies are adjusted in real time as threats emerge, risks evolve, and your goals change. 
WHY POLICIES MATTERS
Benefits you can't afford to miss 
Consistently applied rules and policies ensure the best outcomes possible with the least amount of effort and greatest accuracy.
Processes WITHOUT RULES
Labor-intensive
Error-prone
Erratic
Limited
Processes WITH RULES
Easy & efficient
Accurate
Consistent
Scalable
WHAT MAKES KOUNT SPECIAL
Added value achieves
better results
You don't need just any data. You need the right data. Here's what sets Kount apart from anyone else.
Customizable strategy
Create a strategy that perfectly fits your needs, wants, and wishes. From manually reviewing to fully automating — and everything in between — you have total control over what the technology manages.
Instant results
Want to make a change? Try something new? Now you can. Our technology operates in real time. Adjust your policies and decisions will immediately reflect the update. Pivot strategies quickly so you don't miss opportunities. 
Educated decisions
Our team of experts can guide you every step of the way. Collaborate throughout the onboarding process so you'll start meeting your goals on day one. And our support team offers both regular consultations and on-demand assistance.
Extensive data
Kount has a decade more data than any other service provider. With more data comes more variables to influence policies. Use detailed and multi-factor rules to make better decisions that benefit both you and your customers. 
TESTIMONIALS
What our clients are saying
"Kount offered us something other companies couldn't: the ability to write our own custom rules that apply to our unique situation. I didn't have to buy someone else's pre-packaged sets."
Dave Parrott
Fraud Manager
"There are options to create specific rules and they can be set to decline, review, or approve based on my needs."
Mindy K.
Customer Service and Financial Coordinator
"The ability to write complex policies to decline, review, or approve orders has been key for us. When I need a new rule created to stop an emerging threat, our team can easily set that up. And that's been amazing."
Angela Kourtoglou
Senior Director of Operations
"I think the fact that Kount is automated and learns your business is a huge factor in why I like the software. It can be left alone and it makes excellent decisions for our business and workflow."
Jason A.
Fraud and Chargeback Analyst
GET STARTED TODAY
Discover how Kount is different 
Thousands of companies from all over the world trust Kount for efficient, accurate decisions. Will you be next? Sign up for a demo today, and see how our technology delivers confidence in every interaction.
---