VERIFY IDENTITIES
Strengthen confidence with identity verification software
If you want complete confidence in the legitimacy of individuals interacting with your brand, you need Kount. Our verification system provides real-time authentication without disrupting the customer experience. It's a win-win situation.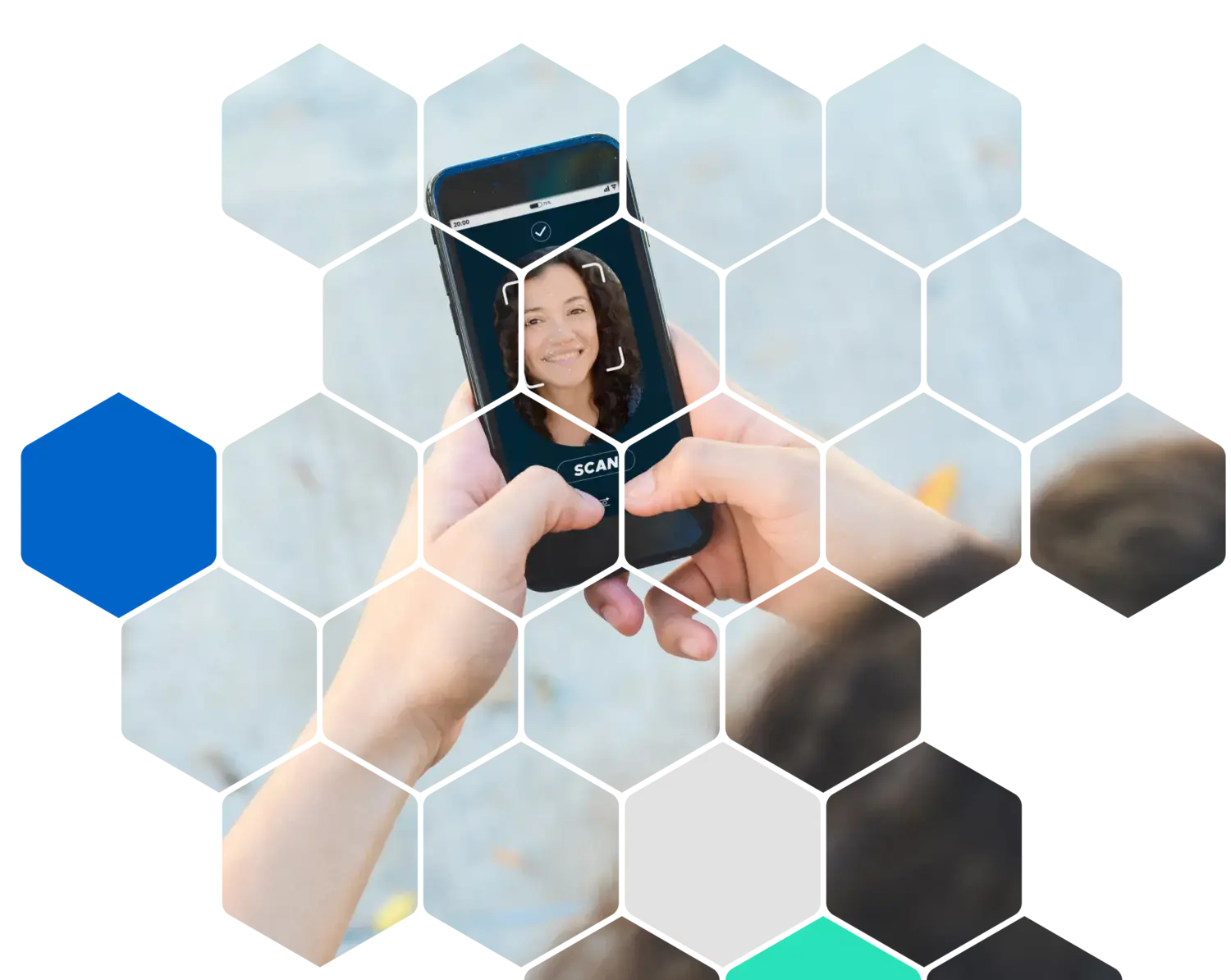 IDENTITY VERIFICATION WITH KOUNT
How identity verification software works
Without technology, verifying that a digital identity is trustworthy can be a nearly impossible task. But with the right solutions and data, you can accurately verify user identities within milliseconds.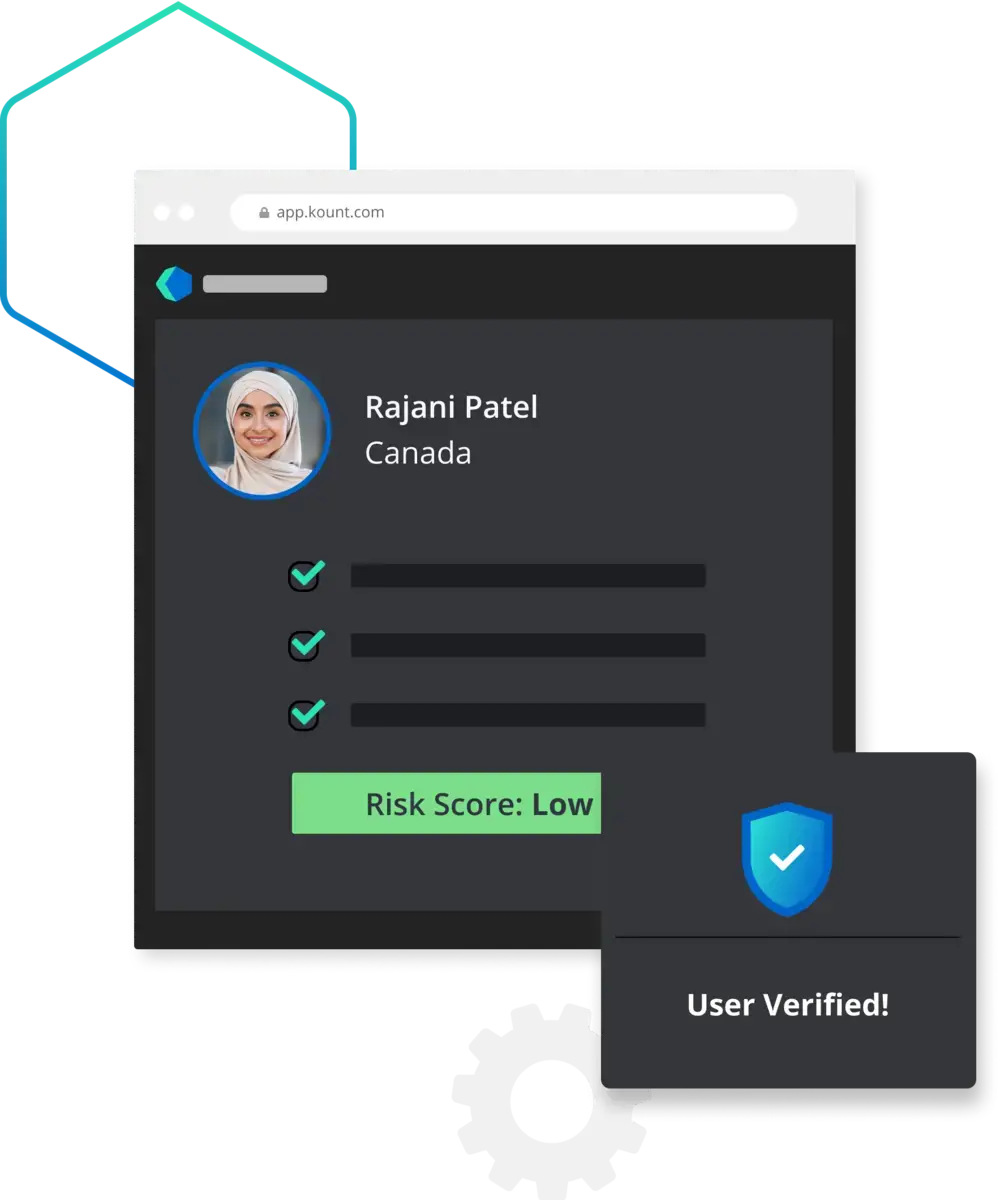 1.
A user interacts with your business.
An individual begins interacting with your brand — such as attempting to open a new account or make a purchase.
2.
Data matches and assessments are performed.
The individual's information — such as device and identity data — is evaluated in real time against insights within our database.
3.
The user identity is assigned an assessment score.
The machine learning returns an assessment score and reason code for the overall identity, phone, email, address, and device. 
4.
The user is verified.
The individual's identity is confirmed to be legitimate or not.
Unique features deliver needed benefits
Kount technology provides the capabilities you need to elevate your identity verification strategy.
Passwordless Authentication
Enable users to log into accounts without a password — which can easily be stolen. Verify identities with more secure features like facial recognition, biometrics, or trusted devices.
Reusable Identities
Leverage our expansive network to reduce friction. Once an identity has been verified through our technology, the individual can seamlessly interact with any Kount client.
Auto-Fill Forms
Auto-populate new account creation forms with information stored in our database. Verify user identities in real-time with a frictionless experience and minimized risk of fraud.
Identity Proofing
Quickly and accurately verify the authenticity of identity documents. Easily detect fake IDs, protect your business, and comply with know-your-customer regulations.
WHY IDENTITY VERIFICATION MATTERS
Benefits you can't afford to miss
Do you want a better way for users to prove their identities? Implementing a software solution for verifying IDs is key.
WITHOUT ID Verification
Decline legitimate customers
Expose your business to risk
Frustrate customers
Create skepticism
WITH ID Verification
Decrease false positives
Enhance fraud prevention
Reduce friction
Establish trust
WHAT MAKES KOUNT SPECIAL
Added value achieves better results
Not all verification processes are able to achieve the results you desire. But Kount can. Here's what sets us apart.
Flexible technology
Kount technology offers multiple ways to verify consumer identities — like passwordless authentication and reusable identities. More options mean we can tailor the technology to fit your unique business needs. 
All-in-one strategy
Not only does Kount offer identity verification services, but we provide payments and compliance solutions as well. Fewer platforms to manage means greater efficiency. Fewer costs. More revenue in your pocket.
Expansive network
As part of Equifax, Kount collects both digital and physical identity attributes. With a complete portfolio of data, we can help you reduce risk with the greatest accuracy possible while also minimizing friction for good customers.
TESTIMONIALS
What our clients are saying
"Kount provides facts and data that can give you confidence on business decisions and risks for your company."
Anne P.
Sr. Sales Support Analyst
"The amount of data that is available is second to none and incredibly helpful in determining exactly who we are dealing with."
Glenn E.
Customer Service Supervisor
GET STARTED TODAY
Improve your business strategy with identity verification software
Companies from all over the world use Kount's trust and safety technology to grow their business. Will you be next? Sign up for a demo today, and see what it's like to have confidence in every interaction. 
---
Image