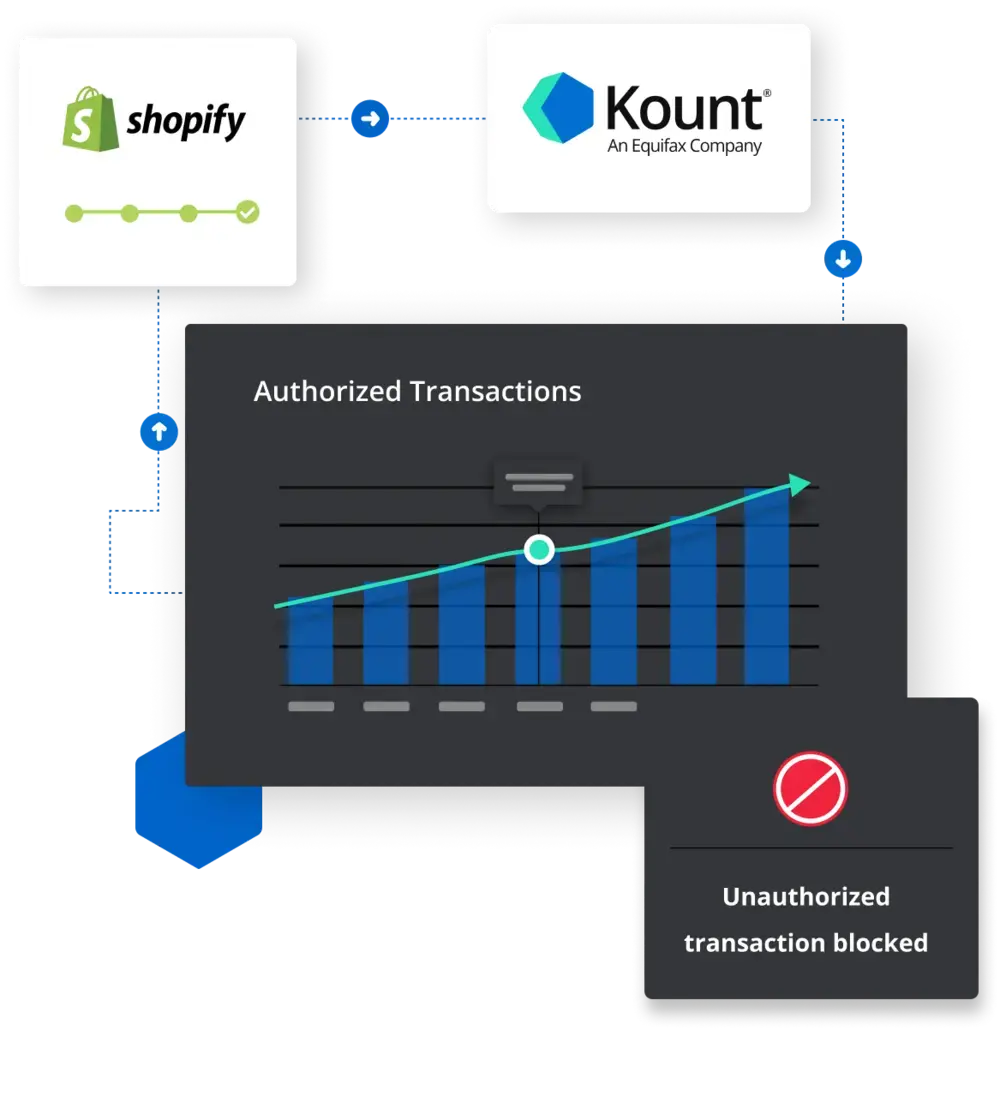 WHAT IS KOUNT?
Kount: fraud technology for ecommerce businesses
Managing high-risk orders, chargebacks, and credit card fraud can feel like a guessing game. Fortunately, fraud detection and prevention software takes all the guesswork out of the equation. 
Using leading machine learning algorithms, Kount's fraud filter app can:
Review orders for you
Identify anomalies and threats
Automatically make decisions about fraudulent orders 
SHOPIFY PROTECTION
Isn't Shopify's fraud analysis enough?
Shopify has built-in fraud capabilities, but they are limited and can be confusing to understand. The level of protection you get varies depending on the Shopify plan you have and whether or not you have Shopify payments. But with Kount, there are no restrictions on what we can and can't do. 
With Shopify only
Restrictive rule types
Manual processes
Chargeback protection (Shopify Protect) is limited
With Shopify + Kount
Flexible policies with real-time updates
Automated efficiency
Protection for any transaction from any country
Top benefits of Kount's fraud prevention
Set it and forget it
Automate decisions based on risk thresholds. Spend less time manually reviewing orders.
Grow your business
Focus on daily operations and improving customer experiences.
Leave fraud to the experts
Save time, money, and resources by trusting the technology.
Protect revenue
Prevent fraud-based chargebacks from happening in the first place.
HOW TO USE KOUNT FOR SHOPIFY
Multiple options. Same great protection.
Kount offers two tiers of protection for payments fraud. No matter which offering you choose, both tiers can stop potential fraud.
Kount Essentials
Kount Advanced
Small and mid-size businesses
Larger businesses with dedicated fraud management teams
No coding is required for integration — the app installs directly in the Shopify marketplace and works immediately
Integration work is required, but merchants receive dedicated onboarding support from the Kount team
Hands-off fraud protection
Full customization capabilities
Results are displayed in Shopify
Results, data, and policies are available in the Kount portal
WHY KOUNT
Added value achieves better results.
TESTIMONIALS
What Our Clients Are Saying
"Kount allows us to continue to serve the customer to the best of our ability without having to slow things down, without having to say no to the customer."
Chad Funk
Fraud Specialist
"Kount has made my life infinitely easier. I'm back to doing my job instead of spending my entire work week battling fraud."
Christine Barnum
Controller
"If every business had Kount, fraudulent ecommerce wouldn't be nearly as lucrative to criminals. The product works, and working with Kount's customer support has been one of the best professional experiences I've had."
Mark Van Vliet
VP of Strategic Initiatives
"Implementing the Kount fraud solution was very simple. And achieving these great results in such a short time has exceeded our expectations."
"I love Kount. I have been working in fraud detection and analysis for over 10 years. I have used, reviewed, and I'm familiar with almost all the softwares out there, and I must say that Kount stands out to me as one of the best — if not the best anti-fraud tool in the entire industry."
Christian Z.
Fraud and Chargeback Analyst
"We were suffering from serious fraud attacks and our previous software was canceling good orders — and letting through fraud. With Kount, our chargebacks went down from 5-6% to under 1% within 6 months."
Dennis L.
Fraud Prevention Coordinator
"When we began to see that our internal fraud detection rules were not sophisticated enough to keep pace with sophisticated criminal and fraudulent activity, we turned to Kount. With Kount's pre-built integrations, we were able to quickly get up and running — Kount's implementation team helped us configure, test, and validate our environment in a matter of days. With Kount reporting and data interfaces, we are able to easily monitor the effectiveness of the technology. Immediately, we saw the fraud stop. To say that Kount has saved us from considerable loss due to fraud would be an understatement."
Matt Hulett, CEO & President
CEO & President
"Implementing the Kount fraud solution was very simple. And achieving these great results in such a short time has exceeded our expectations."
"The best thing about Kount is its versatility. Using counter functions, custom data fields, and a robust dataset — it's possible to customize fraud screening to your specific needs, targeting traffic that is truly high-risk."
Stuart W.
Lead E-Commerce Fraud Analyst
SIMPLE ONBOARDING
Get up and running quickly with Kount + Shopify
Easily install and configure the Kount app in a matter of minutes to access automated, real-time order decisioning that won't add friction to your checkout process. Immediately gain built-in, comprehensive protection against fraudulent transactions and chargebacks for your Shopify ecommerce store.