Frequently Asked Questions
Of all the available solutions, why did Kount pick Midigator?
Chargeback management is a growing concern for nearly all ecommerce merchants. More than 77% of fraud-coded chargebacks are cases of friendly fraud. And while Kount does an exceptional job of preventing fraud, we lacked a complete solution for chargebacks.
Because the revenue of millions of merchants was exposed and in jeopardy, we decided something had to be done. Kount had two options:
We could build the technology ourselves
We could partner with a team that has already perfected the art of chargeback management.
We chose to take advantage of what's already been done.
---
What is Midigator?
Midigator is intelligent chargeback technology — the solution to confusing, labor-intensive, costly, manual processes.
They use technology to overcome the challenges that commonly plague chargeback management teams of all sizes in all industries. The result is more chargebacks prevented and more revenue recovered with higher ROI.
Midigator's intelligent chargeback technology is...
AUTOMATED: You decide how much or how little is automated. Then the technology goes to work, replacing repetitive, error-prone processes with accurate efficiency.
FLEXIBLE: You retain full control. Midigator will accommodate your existing processes, resources, and abilities. And they can keep pace as your business grows and your goals change.
DATA-DRIVEN: Midigator doesn't make assumptions — they know what needs to be done. Because data-driven decisions eliminate hunches and guesses.
INTUITIVE: Simplicity is always a top priority. Midigator is focused on creating intuitive, easy-to-use features that are relevant to your business.
---
What makes Midigator different?
When looking at the available partnership options, Midigator was the clear leader.
Three things define Midigator, and all three perfectly align with Kount's vision. 
Technology
Midigator's efficient, flexible automation replaces error-prone, manual processes. And data-driven decisions eliminate hunches and guesses.
Expertise
The Midigator team is made up of highly-respected experts. With decades spent learning the rules, testing strategies, and building relationships, they know what it takes to succeed.
Complete Strategy
Everything chargeback-related that a merchant could possibly need is in one platform. Whether it's preventing, fighting, or analyzing chargebacks — Midigator can do it all.
---
If I don't use Midigator, what are the alternatives? 
We value what Midigator has to offer — and we hope you do too. Because as a Kount client, we want the best for you. And we believe any alternative to Midigator won't provide the outcomes you deserve. 
No technology company
These chargeback processing companies might have years of experience, but they haven't evolved with the times. They still do things manually. Their "technology" is a dashboard that displays their results.
WHY IT MATTERS
Insight without technology is impossible to scale consistently. It's unrealistic to expect hundreds of offshore employees to all do a task the exact same way every time. Humans make mistakes. And mistakes will cost you money.
No expertise company
These chargeback processing companies offer to automate your responsibilities, but they don't know how to improve their outcomes. They don't have the expertise to optimize what they build.
WHY IT MATTERS
Automation without intelligence is just going through the motions. If there is no expertise to be shared, what will you gain? You would still be responsible for figuring out how to win. So your results — and your level of confusion — would stay the same.
No strategy company
These chargeback processing companies have a very narrow focus, putting a lot of restrictions on what you can and can't do. Their limited abilities have a limited impact on your chargeback problem.
WHY IT MATTERS
Technology without capacity is a one-trick pony. Your business won't be able to grow and evolve if it is stuck within the confines of someone else's limitations. Want to try a new processor? A new shopping cart software? A new chargeback prevention technique? You can't, because your service provider isn't as innovative as you are.
---
What do Midigator clients have to say?
We asked some Midigator clients to explain what it's like to work with Midigator. Here is what they had to say: 
Integration with Midigator is easy, and once it's established, you have access to their full suite of services and reporting without any additional development effort.
Nick
Sr. Software Engineer II,
Computer Software
I love the easy-to-use interface that provides actionable data to help reduce and deflect chargebacks.
Conner
Owner,
Retail
The automation is the best part for us. We can put people into other roles rather than chasing chargebacks, knowing Midigator is working in the background. It's a huge timesaver.
Paul
Manager,
Health, Wellness & Fitness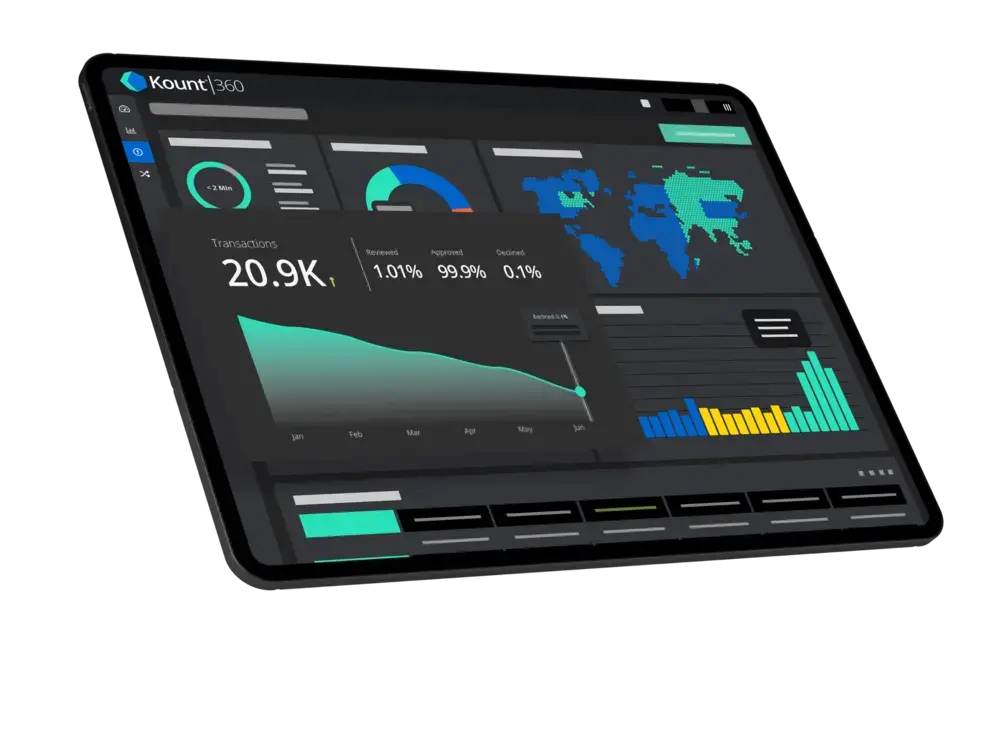 LET'S CONNECT
Want to learn more about the Kount + Midigator partnership?
What does the Kount + Midigator partnership mean for businesses like yours? Could this new development benefit you? Schedule a call with our team to learn about available opportunities to confidently grow your business with a complete trust and safety solution. 
Explore Kount + Midigator