Building vs. Buying a Fraud Solution: The Costs and Benefits
Are you at the point when you're trying to figure out if you should buy a fraud solution from a provider or just build one yourself? But you're not sure which option is the most cost-effective and beneficial?
How do you decide which one is best?
The answer is that it depends. There are a variety of factors to consider when implementing the right fraud prevention solution. And we'll break down those variables so that you can figure out what fits your business.
---
Building vs. Buying : 5 Factors to Consider
Before you make a decision to build or buy, understand what matters most to you. We've outlined the top five considerations to help guide you.

1. Time
Are you in a hurry to get results? Or can you wait a while? No matter what your situation is, you'll need to balance your timeline and expectations for results.
THE BUILD APPROACH
When building an in-house solution, you have to invest a significant amount of time to create and implement it. This includes the time it takes to hire data scientists and developers — which can take weeks to months. From there, it can take up to two years for your teams to actually build the solution.
After that, they have to test it and work out any bugs before it's ready for use. Then comes the implementation process. Generally, testing and implementation takes several months to complete. And if you have to onboard additional vendors or tools, the process can take even longer.
Keep in mind that you won't be able to tackle fraud issues until you deploy the technology. So your business will be vulnerable in the meantime. And once the solution is implemented, it may take a while before you see a return on the investment.
THE BUY APPROACH
Buying a pre-built solution requires drastically less time than building one. For starters, all the work has already been done for you — the research, development, and support setup. All you have to do is implement the system.
Pre-built solutions generally take a few weeks to implement. Afterwards, you may need one or two follow-up sessions with the support team to adjust your policies.
Once the solution is fully integrated into your existing systems, you may be able to see a positive ROI on some features in as little as a few days.
| | | |
| --- | --- | --- |
| | BUILD | BUY |
| TIME TO HIRE & VET A TEAM | It could take months or even years to build a team of qualified engineers and data scientists. | Choosing a quality solution provider could take a few weeks or a few months, depending on how many vendors are involved in the consideration process. |
| TIME TO LAUNCH | It could take years to build a minimum viable product. | Technology integrations depend on available client-side resources, but integration can typically be completed in a matter of days or weeks. |
| TIME UNTIL ROI | ROI will depend on the type of fraud and the quality of technology. At a minimum, it will probably take at least a year to experience positive ROI. | ROI will depend on the type of fraud and the solutions used. Typically, businesses experience a positive ROI within the first month of service. |

2. Cost
There are a variety of factors to consider that can impact the overall price of a solution.
THE BUILD APPROACH
It may seem obvious, but building your own solution means that you are financially responsible for everything that goes into it — wages for employees, the infrastructure of the technology, and ongoing maintenance. Those costs can add up quickly.
Generally, a team requires around four to five employees and should include a mix of developers, data scientists, and engineers. Once the solution is running, you'll need at least one employee to manage it and review orders when necessary. Between taxes, wages, and benefits, the cost of this small team can easily exceed a million dollars.
Furthermore, you'll likely need additional third-party tools and datasets to get a properly functioning fraud solution. Then you need to budget for maintenance. At minimum, data models need to be updated every six months to keep up with new and emerging fraud trends. Updates can cost a few hundred thousand dollars.
THE BUY APPROACH
Pricing will vary with a purchased solution. For many solutions, companies typically charge you for each interaction the solution protects. But some solutions can cost a flat rate.
Even with a pre-built solution, you may still need to hire an in-house fraud team to conduct manual reviews and oversee the business's account. However, this team could be as small as one person, depending on the solution you choose.
You may still elect to purchase other fraud tools, but a pre-built solution will most likely cover everything you'll need for complete protection. Overall, your main expense will be the solutions you choose.
| | | |
| --- | --- | --- |
| | BUILD | BUY |
| COST TO HIRE RESOURCES | At minimum, you'll need to hire four to six employees to build and manage the system. | You may only need to hire one or two employees to monitor fraud events and adjust policies as needed. |
| COST TO DEVELOP A SOLUTION | You pay for the infrastructure, design, development, and additional tools or vendors required to create a solution. | You pay for the solutions you implement. Typically, a service provider will offer bundle pricing and discounts for using multiple solutions. |
| COST TO PERFORM MAINTENANCE | You cover the costs to update, repair, and maintain your solution. | The fraud provider covers the costs for updates and maintenance. |

3. Effectiveness
How well your fraud solution works comes down to having the right capabilities and data to handle a variety of threats. Sometimes you can do that on your own. Sometimes it's better to offload those responsibilities onto an expert.
THE BUILD APPROACH
One thing to keep in mind is that when you build your own technology, you don't know how effective it is until you deploy it.
Fraud is always evolving, so you have to make sure what you build is easily adaptable. You can't base your entire solution around a certain fraud strategy according to current trends. You have to look at the bigger picture.
Additionally, fraud software is only as good as its datasets are. The more historical data you have, the more accurate and efficient your technology will be. But you likely won't have that data right away, so you'll need to purchase third-party data. And it may be limited in age and scope, which can hinder the overall effectiveness of your solution.
THE BUY APPROACH
When you buy, you have the opportunity to shop around for the best possible fit. You can get a rough idea of a technology's overall effectiveness with statistics and case studies before making a decision.
Additionally, some pre-built fraud prevention solutions can start working shortly after implementation. And the best software will be able to adapt and change as fraud evolves — accommodating your business's fluctuating needs.
What really impacts the overall effectiveness of a pre-built solution is the data available. Some providers work from large datasets — which improves the quality and accuracy of fraud decisioning.
| | | |
| --- | --- | --- |
| | BUILD | BUY |
| FRAUD DECISIONING | Decisions are based on your knowledge of fraud trends and data. | Decisions are based on facts, historical data, and decades of experience. |
| ACCURACY | You rely on your own limited data and third-party data to feed your technology. | The technology collects and analyzes your own data — as well as all the other clients in the network. |

4. Scalability
Growth is key to achieving success. Therefore, it's essential that your fraud prevention system can scale with you.
THE BUILD APPROACH
The reality is that it's difficult to build a solution that can truly grow with you. For example, if you expand into new geographies or start accepting higher transaction volumes, your technology may not be able to stop fraud without causing too much friction for good customers.
Often, in-house solutions are too strict to account for sudden fluctuations in transaction volumes — such as spikes during busy seasons. They may cause too many false declines or crash at a crucial moment, causing you to lose business.
THE BUY APPROACH
Pre-built software tends to be more adaptable and easier to scale as your business grows. You can move into new territories, accept new currencies and payment methods, and increase transaction volume without the need for human intervention. And you don't have to worry about disrupting the customer experience.
Additionally, the software can seamlessly adjust to fluctuations in purchasing behavior and sudden increases in traffic volume. From time to time, you may need to adjust certain policies to account for these fluctuations so that you don't potentially decline legitimate customers.
| | | |
| --- | --- | --- |
| | BUILD | BUY |
| ABILITY TO SCALE & ADAPT | You may need to update your software to account for business expansion or sudden changes. | The technology automatically scales with your business. You may need to intervene occasionally to update policies. |

5. Compliance
If you accept any form of payment, you must comply with certain industry standards. The most notable ones include the Payment Card Industry Data Security Standard (PCI) and anti-money laundering regulations.
THE BUILD APPROACH
When you build your own solution, you assume complete liability for complying with these standards. That includes maintaining a data center and training staff for compliance. But it can be challenging. The rules and laws aren't always easy to understand.
THE BUY APPROACH
When you buy software, you can essentially outsource the compliance component. The technology makes it easy to create a compliance process. And you can reach out to support staff for extra guidance as needed.
BUILD
BUY
COMPLIANCE MONITORING
You are responsible for knowing industry regulations, developing a strategy, and monitoring performance.

The technology provides a complete strategy and can monitor performance.

Fraud experts can give you guidance and review threats on your behalf.
Should You Build or Buy a Fraud Solution?
Ultimately, it's up to you to decide which path is right for your business.
Building gives you total control and ownership of the product. Buying gives you the freedom to focus on business operations and growth.
Consider the impact that a pre-built fraud solution like Kount has had on a long-term customer.
CASE STUDY
Long-term ROI and cost analysis of buying fraud prevention software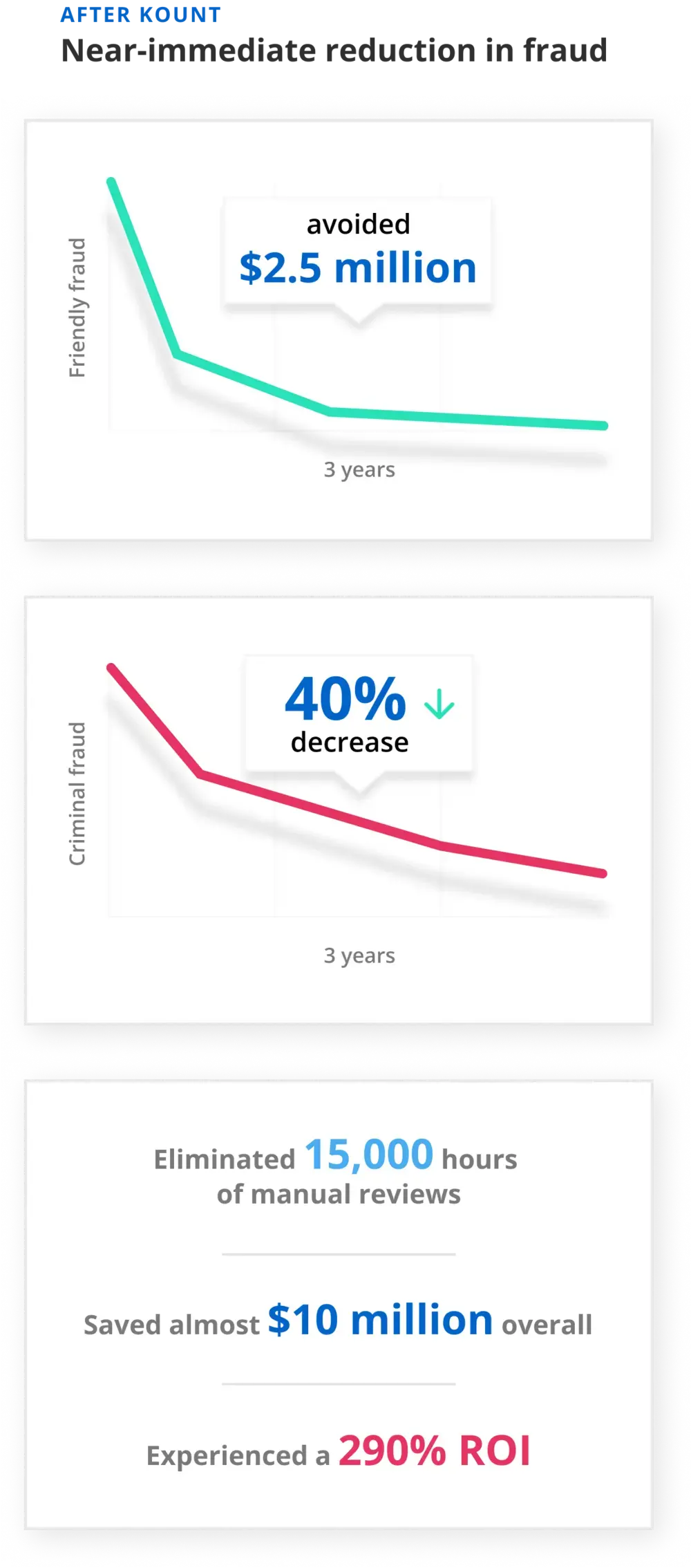 In a recent Forrester report, a large retail organization that processes approximately 1 million online transactions annually revealed their three-year ROI after purchasing Kount. 
Previously, the organization used a mixture of in-house manual fraud controls and rule-based controls from a vendor. However, this strategy was too restrictive — causing excessive declines, increased customer complaints, and decreased revenue.
Additionally, when traffic volumes increased, the in-house solution was unable to accept new payment methods or adjust to fluctuations in transaction volumes. As a result, the company lost new business.
After implementing Kount's trust and safety platform, the retailer saw a near-immediate reduction in fraud. And over the course of three years, Kount helped the retailer avoid $2.5 million in friendly fraud and reduced criminal fraud by 40% — or $4.9 million. The company also eliminated 15,000 hours of manual reviews.
The combination of labor savings, fraud prevention, and more good orders means the company saved almost $10 million overall.
Lastly, by leveraging the Kount platform, the organization experienced a 290% ROI. 
Want to see these kinds of results for yourself? Schedule a demo of Kount to learn more.