CHARGEBACK PROTECTION WITH KOUNT
How chargeback protection works
Our approach to protecting your business is simple. We remove the complexities of chargebacks so you can focus on what matters most: running your business. Here's what that looks like.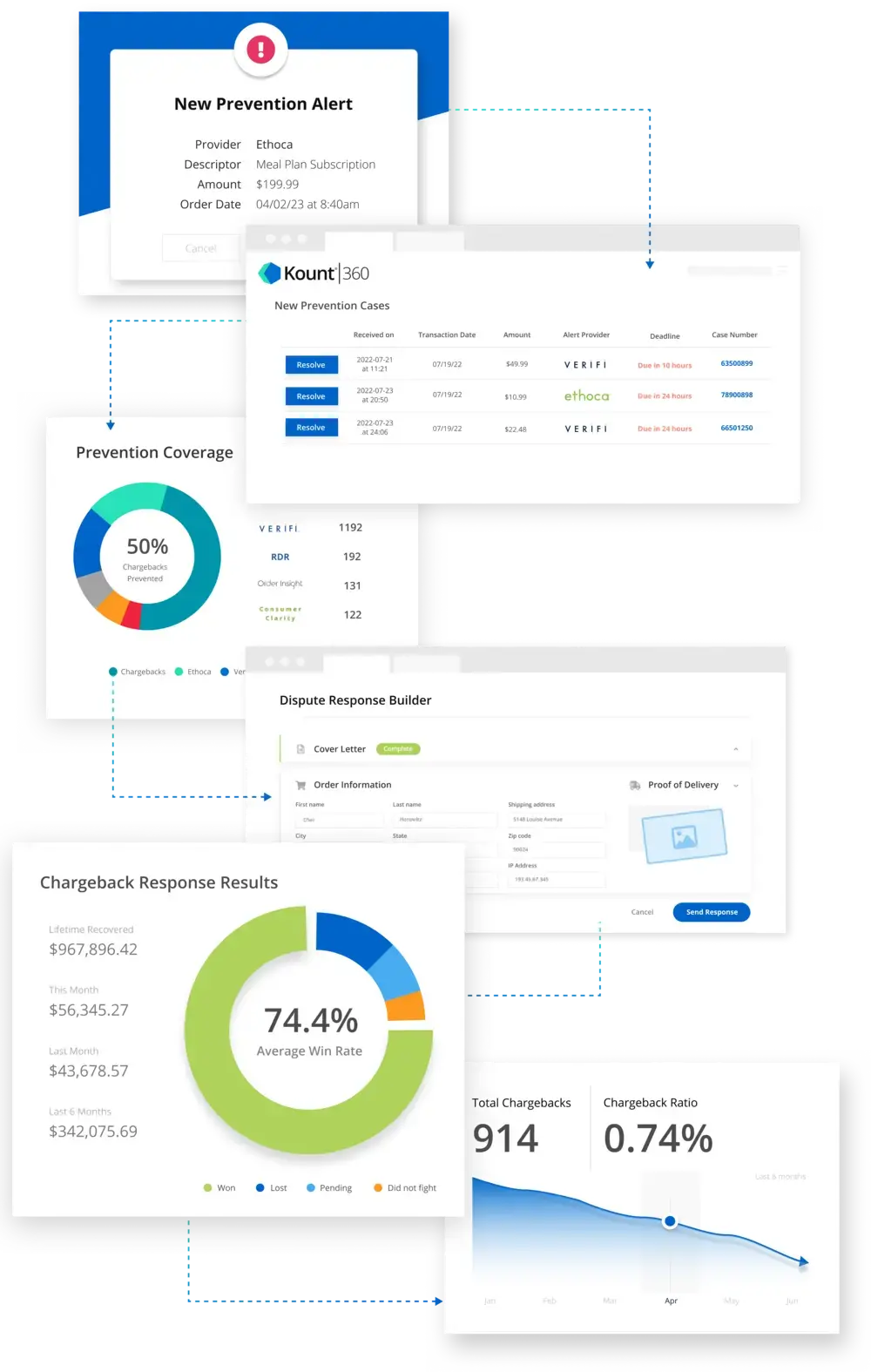 1.
Notifications are received.
We establish direct integrations to your relevant platforms — like your payment processors, gateway, alert providers, and more — so all your chargeback and dispute data can be consolidated into a single platform. This improves transparency and efficiency. 
2.
Prevention solutions are activated.
Prevention solutions that solve your specific challenges are implemented. This might include order validation, chargeback alerts, and acquirer refunds. A multi-layer approach provides maximum protection. 
3.
Chargeback fraud is fought.
Chargebacks that can't be prevented are challenged with supporting documents and compelling evidence that refutes the cardholder's claim. 
4.
Threats are identified.
Data analysis reveals the underlying cause of chargebacks — such as criminal fraud (fraudulent transactions) or friendly fraud — so future disputes can be managed more effectively. 
5.
Outcomes are analyzed.
Intuitive data makes it easy to evaluate effectiveness and identify areas of improvement. 
6.
Results consistently improve over time.
Ongoing monitoring and optimization means more revenue is protected. On average, clients have a 914% return on investment.
WHAT'S INCLUDED
A strategy for complete chargeback protection
Chargeback protection is really about protecting your bottom line. And we have everything you need in our end-to-end strategy.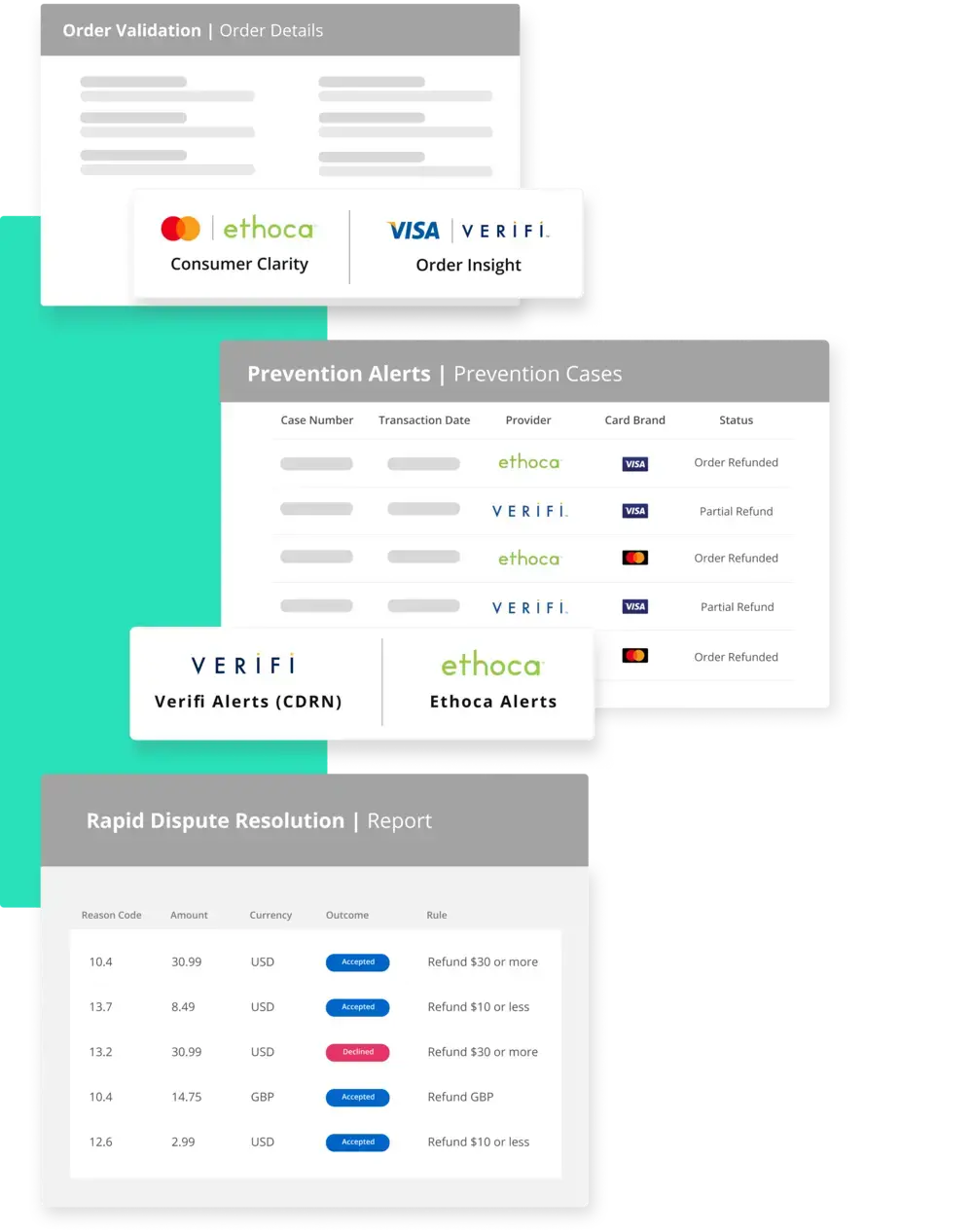 Prevent chargebacks
Kount helps you proactively resolve disputes before they become chargebacks. Lower your chargeback ratio, reduce the risk of threshold breaches, alleviate the strain on your customer service team, and avoid the hassle of labor-intensive management tasks.  
Order validation
Clarify purchase confusion and stop friendly fraud attempts by providing additional transaction data in real time. Empower the cardholder's bank to "talk off" disputes. 
Learn about order validation. 
Prevention alerts
Use prevention alerts to intercept disputes and pause the chargeback process. Refund transactions to proactively stop chargebacks from happening.
Learn about prevention alerts. 
Rapid Dispute Resolution
Automatically refund transactions to instantly resolve disputes. Set filters for when the technology should and shouldn't issue a refund, and then let the automation go to work!
Learn about RDR.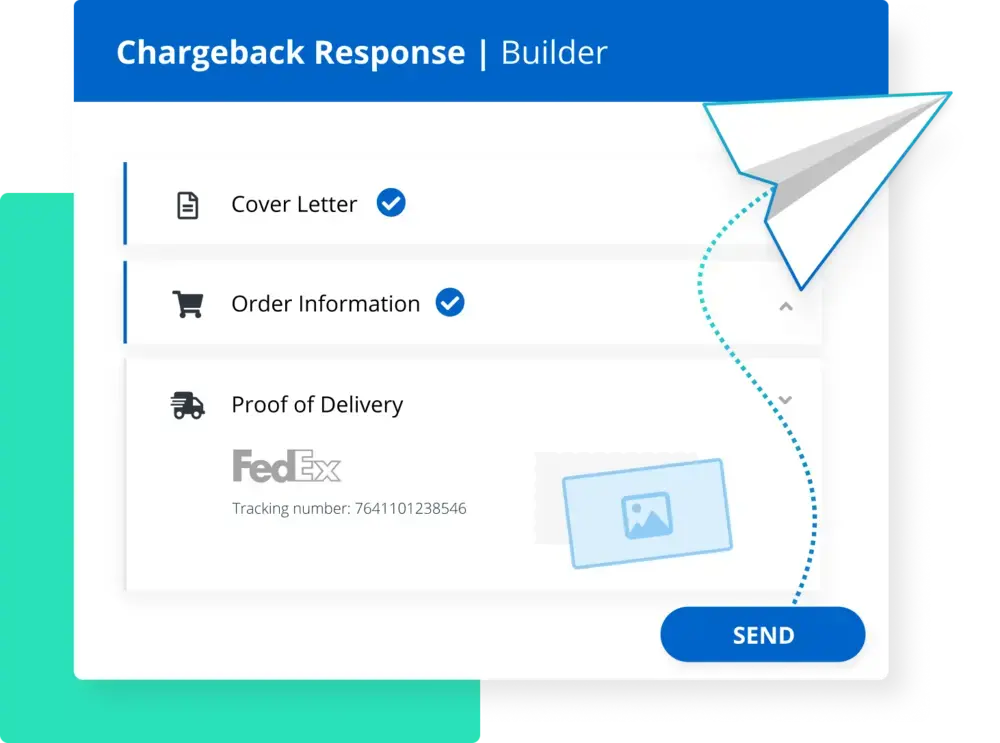 Fight chargebacks
If a chargeback is unwarranted, you have the right to respond and challenge the cardholder's claims. Win the case and you'll recover the disputed amount. With Kount's technology, you can effectively defend the revenue that's rightfully yours.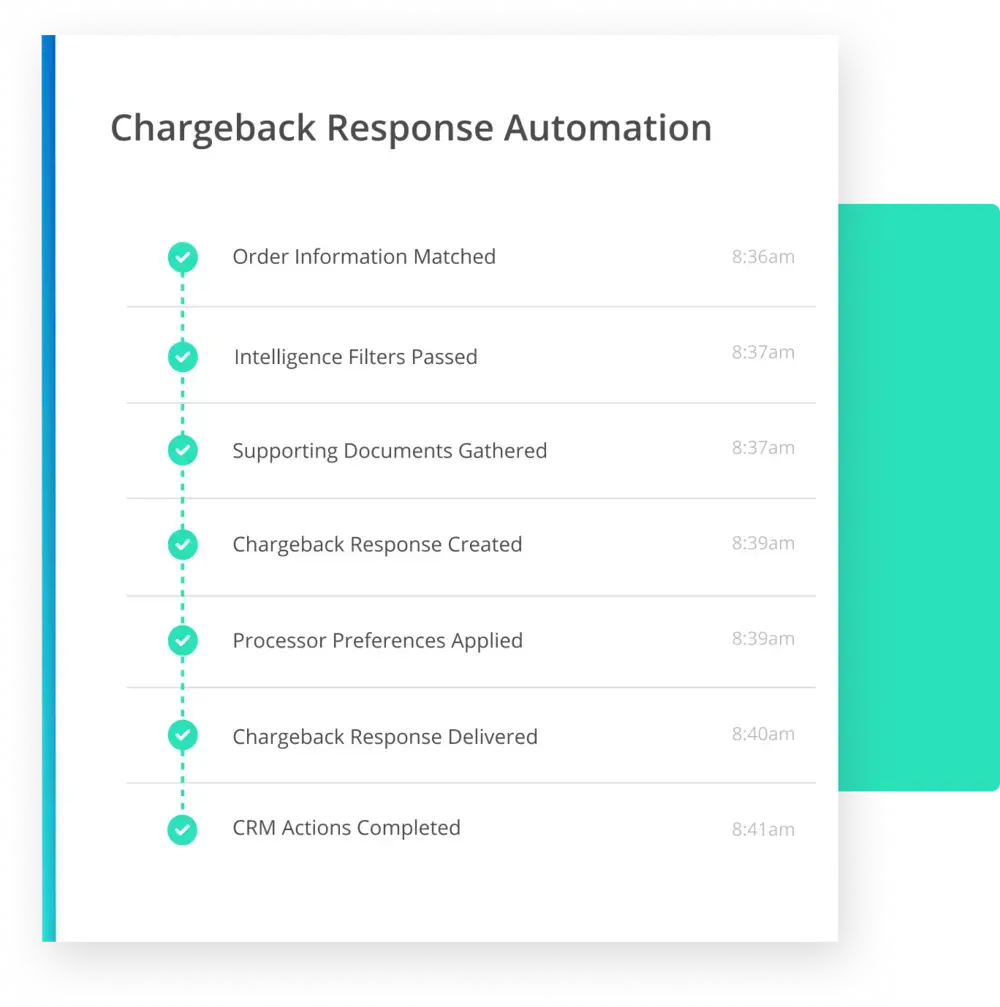 Automate chargebacks
Don't let time-consuming chargeback management tasks burden your team any longer. Use Kount's customizable automation to simplify processes, increase efficiency, boost employee morale, and improve chargeback management results.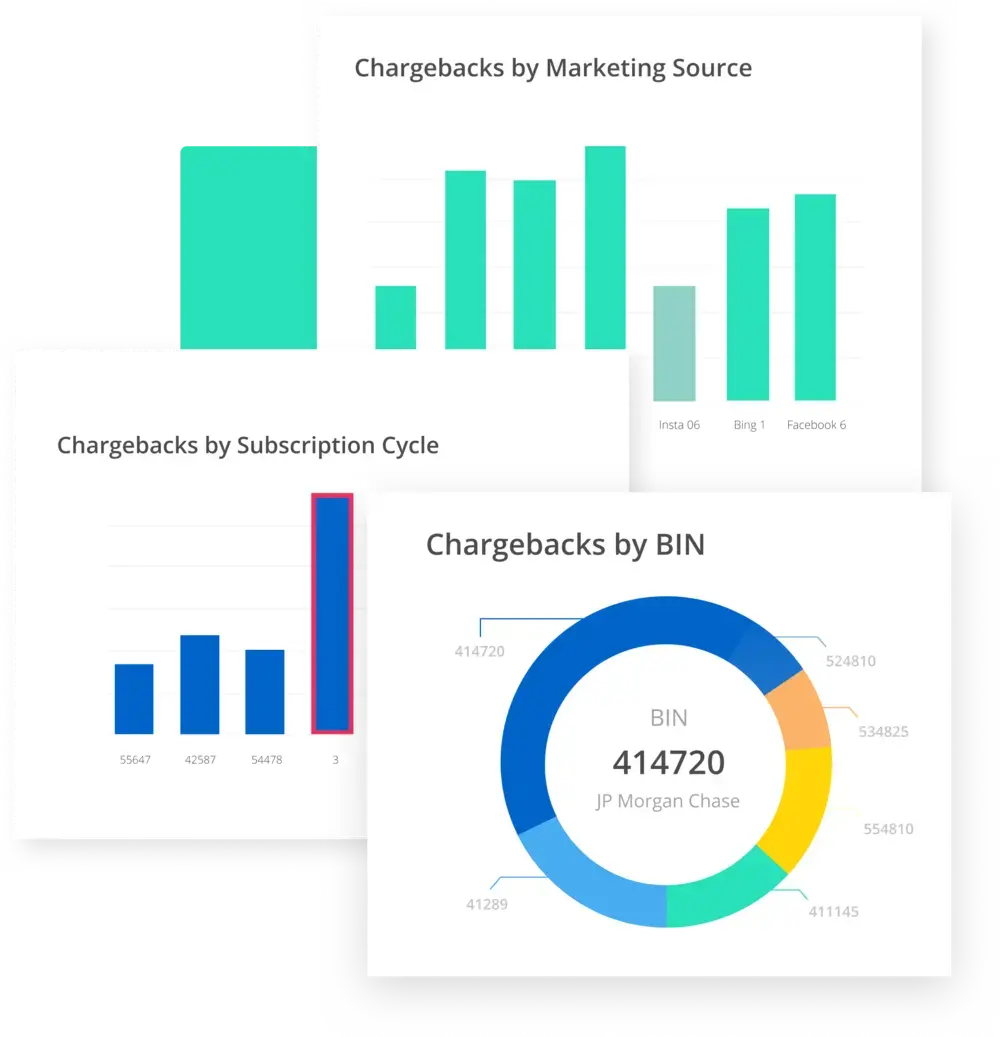 Analyze chargebacks
Use Kount's real time data to discover the underlying cause of disputes — such as unintentional merchant error, undesired customer behaviors, or glitches in the transaction process. Then, solve issues at their source. Lower the risk of future disputes and reduce chargeback costs.
WHY CHARGEBACK PROTECTION MATTERS
Benefits you can't afford to miss
Do you really need to worry about chargeback protection? See what's at stake if you do — and if you don't.
WITHOUT protection
Suffer revenue loss.
Incur penalties and dispute fees.
Make guesses and assumptions.
Receive excessive chargebacks.
WITH protection
Protect your revenue.
Reduced costs.
Trust data-driven decisions.
Enjoy fewer chargebacks.
WHAT MAKES KOUNT SPECIAL
Added value achieves better results
Why choose Kount for chargeback management? What makes us different from other protection services? Here's what sets us apart.
Complete strategy
We have everything you need, all in one place. Other protection services only address a part of the problem. But Kount can seamlessly handle everything from detecting fraud to fighting chargebacks.
Flexibility
There's no need for your team to adapt or change. We'll make sure our solutions fit your existing processes, abilities, and resources. Plus, our technology scales as your business grows and changes.
Technology
While other service providers depend on error-prone, labor-intensive manual processes that waste your time and money, we use efficient, accurate automation to achieve the best results possible.
Experience
You don't want a newbie with trial-and-error techniques. You need a veteran with decades of industry experience. Our strategy is proven-effective — we know what it takes to succeed.
PRICING
What does chargeback protection cost?
Kount's chargeback protection services are designed to ensure the maximum ROI possible. Pricing is influenced by several different factors.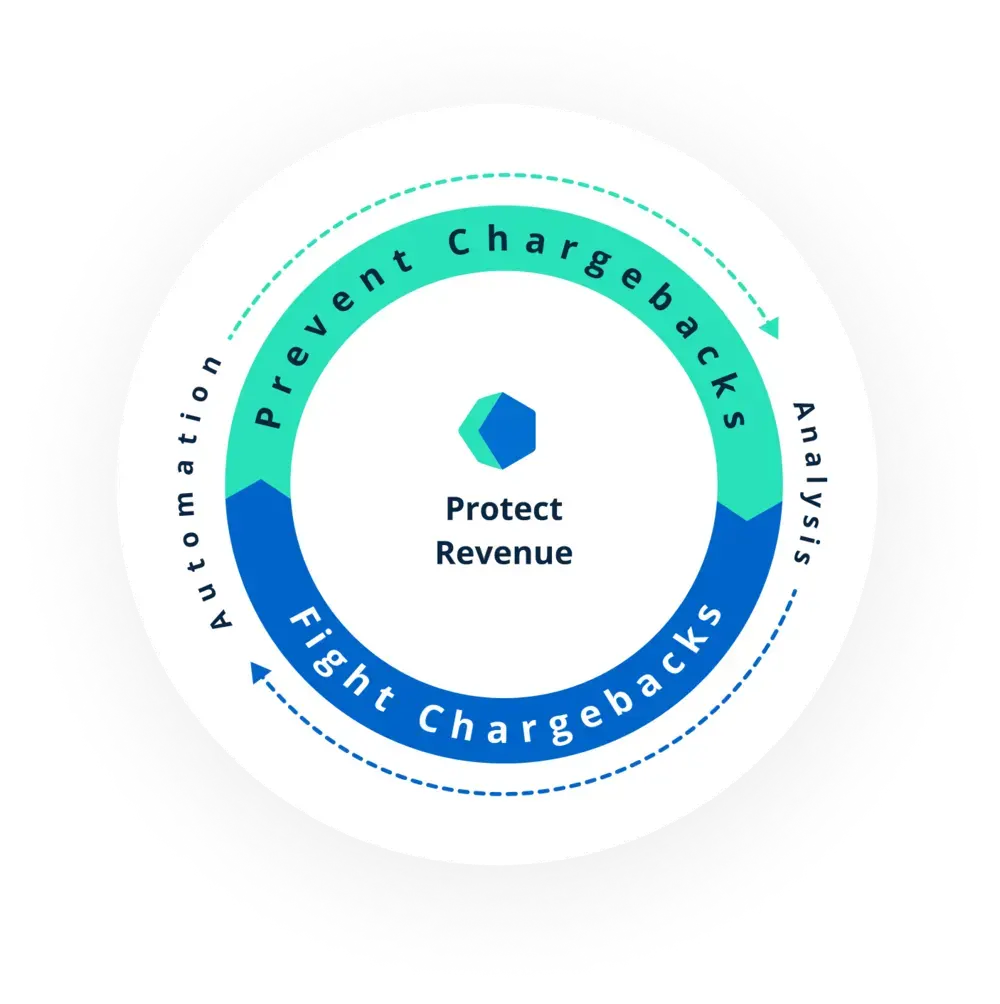 Customized strategy
Our team of experts can help you create a customized chargeback protection strategy with solutions that fit your unique challenges. You won't pay for anything you don't need. 
Per-interaction pricing
Our solutions are generally billed on a per-interaction basis. For example, every alert that is issued or every chargeback that is fought. 
Bundle and save
The best results come from multiple layers of protection. But paying for multiple solutions can get expensive. That's why we offer discounts — the more solutions you use, the better the deal. 
TESTIMONIALS
What our clients are saying
"The bottom line is Kount works. It does exactly what was advertised for us, which was reducing friendly fraud."
Lee Schmidt
Founder and CEO
"If you have an ecommerce business and chargebacks are an issue for you, Kount is THE answer."
"We were suffering from serious fraud attacks and our previous software was canceling good orders — and letting through fraud. With Kount, our chargebacks went down from 5-6% to under 1% within 6 months."
Dennis L.
Fraud Prevention Coordinator
ANSWERS & INSIGHTS
Frequently asked questions about chargeback protection
Yes! We have solutions for friendly fraud prevention and management. 
Friendly fraud, also known as chargeback fraud, can happen for a variety of reasons. 
One reason is forgotten or unrecognized purchases. For example, family members might make purchases without the primary cardholder's knowledge. Or cardholders might not recognize their purchases when the credit and debit card statements arrive.  
Other times, opportunistic customers use the chargeback process incorrectly in an attempt to get goods or services for free. 
Because there can be multiple causes for friendly fraud, we provide a variety of solutions to address it. 
Data analysis can help reveal the underlying cause for friendly fraud so issues can be solved at their source. 
Prevention solutions proactively resolve disputes before they become chargebacks. 
Chargeback response options can recover revenue that's been unfairly forfeited to illegitimate claims. 
Yes! Kount's technology is built on industry-leading machine learning. 
Our technology incorporates two types of machine learning: 
Supervised machine learning looks at a user's past actions. A history of bad behavior — such as filing chargebacks, requesting refunds, or defaulting on loans — can erode trust.
Unsupervised machine learning looks at the user's current attributes. Understanding characteristics like types of devices or number of email addresses can help gauge potential risk.
Yes. We know this is a challenging time, and we'll do all we can to help you manage the situation. 
The first thing you need is a quick and drastic reduction in your chargeback rate. And there are a couple solutions we'd recommend: 
Kount's payment fraud detection software - If the increase in chargebacks is sudden and unexpected, you might be suffering from a very specific fraud attack — like card testing. Our technology detects and blocks suspicious behavior that is likely caused by a fraudster. By reducing unauthorized transactions, you'll also reduce the corresponding chargebacks. 
Chargeback prevention alerts - Chargeback prevention alerts intercept disputes and pause the chargeback process. If you are able to refund the disputed transaction in the allotted time period, you can proactively stop the chargeback from happening. 
Rapid Dispute Resolution (RDR) - RDR can automatically issue refunds for disputed Visa® transactions. You set filters for the types of disputes you do and don't want to refund. For example, you might refund transactions over a certain amount or from a specific region. Then, the automation goes to work on your behalf. 
Reach out to our team today if you'd like to learn more about any or all of these options. 
Keep in mind, enrollment in a monitoring program should not be taken lightly. You'll want to act quickly. 
Once enrolled in a program, you'll likely pay an additional fee each month — oftentimes for tens of thousands of dollars. And because this type of classification makes your business seem high risk, your payment processor may decide to close your merchant account and stop doing business with you. 
Between the extra costs and the inability to process credit card payments like normal, your business could be severely impacted by a monitoring program. So don't wait to put a chargeback management strategy in place as soon as possible. 
Yes! Not only do we comply with Visa requirements for the recent CE 3.0 update, but Kount is the only service provider on the market today capable of incorporating the data elements into a pre-dispute response. 
If you are interested in using Visa CE 3.0 to prevent chargebacks through Order Insight, reach out to our team today.
Kount offers a complete strategy for trust and safety. That includes fraud and chargebacks, but it also includes other essentials like identity verification and regulatory compliance. 
Learn more about our fraud detection software that incorporates protections against specific threats like: 
Payment fraud detection
Refund fraud
Card testing
Elder abuse
Loyalty program fraud
Friendly fraud
Omni-channel fraud
Policy fraud
GET STARTED TODAY
Avoid fees and lost revenue with chargeback protection
Companies of all sizes in all industries use Kount for chargeback protection. Will you be next? Sign up for a demo today, and see what it's like to have confidence in every interaction. 
---
Image

Schedule a demo
Your content has been unlocked!
Please enjoy your unlocked content below!