SAVE YOUR REPUTATION
Protect vulnerable consumers from elder fraud and financial exploitation
Did you know your business can be used for scams that target older adults? Certainly, you don't want criminals to sour your brand reputation. Talk to us. We've helped other businesses prevent elder fraud scams — like gift card fraud — and would love to help you too.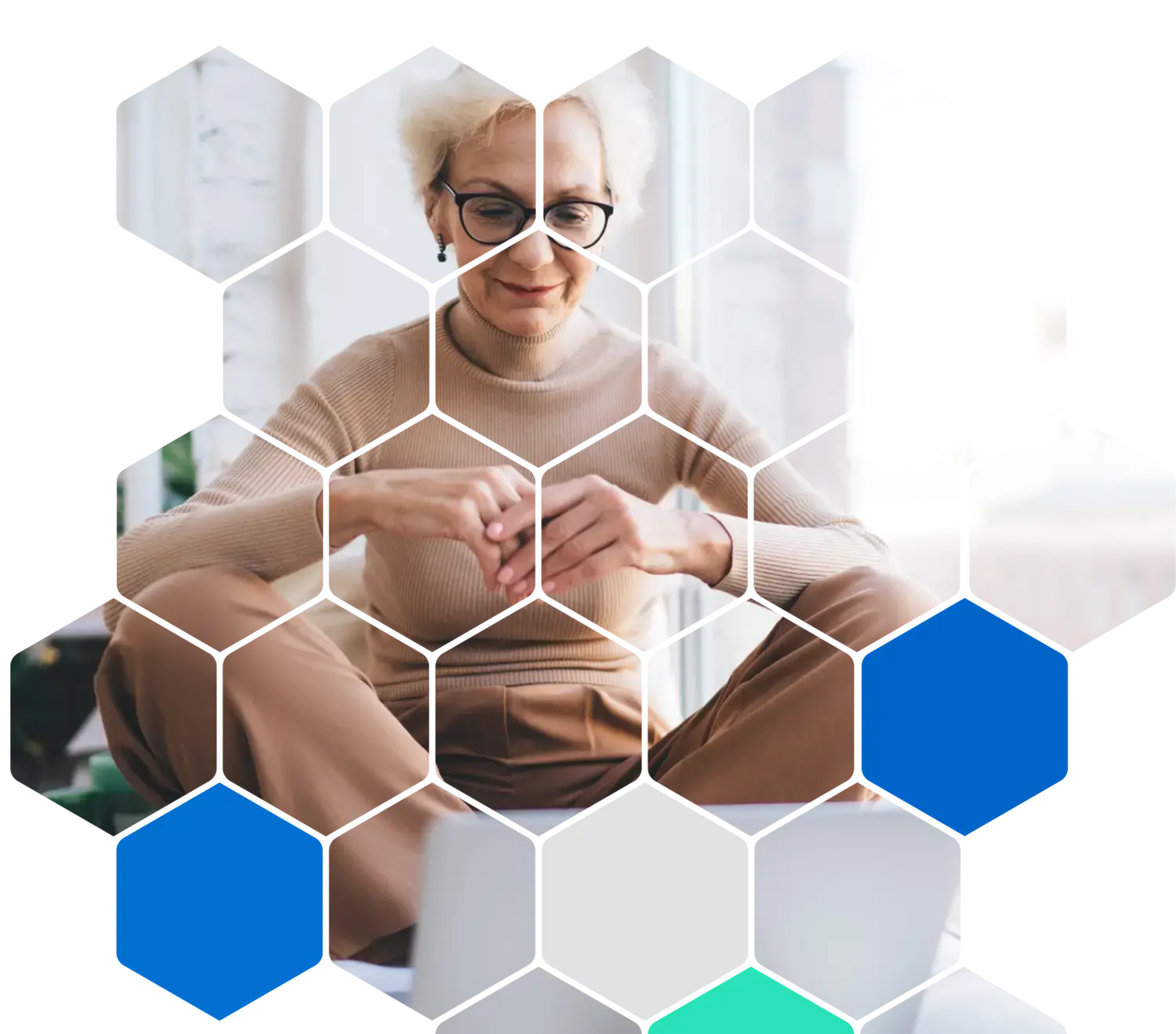 STOPPING ELDER ABUSE WITH KOUNT
How to keep elder customers safe
Fraudsters target older people for a variety of reasons — but the result is the same. Elders lose thousands of dollars each year. With the help of technology, you can make sure your business puts a stop to these scams.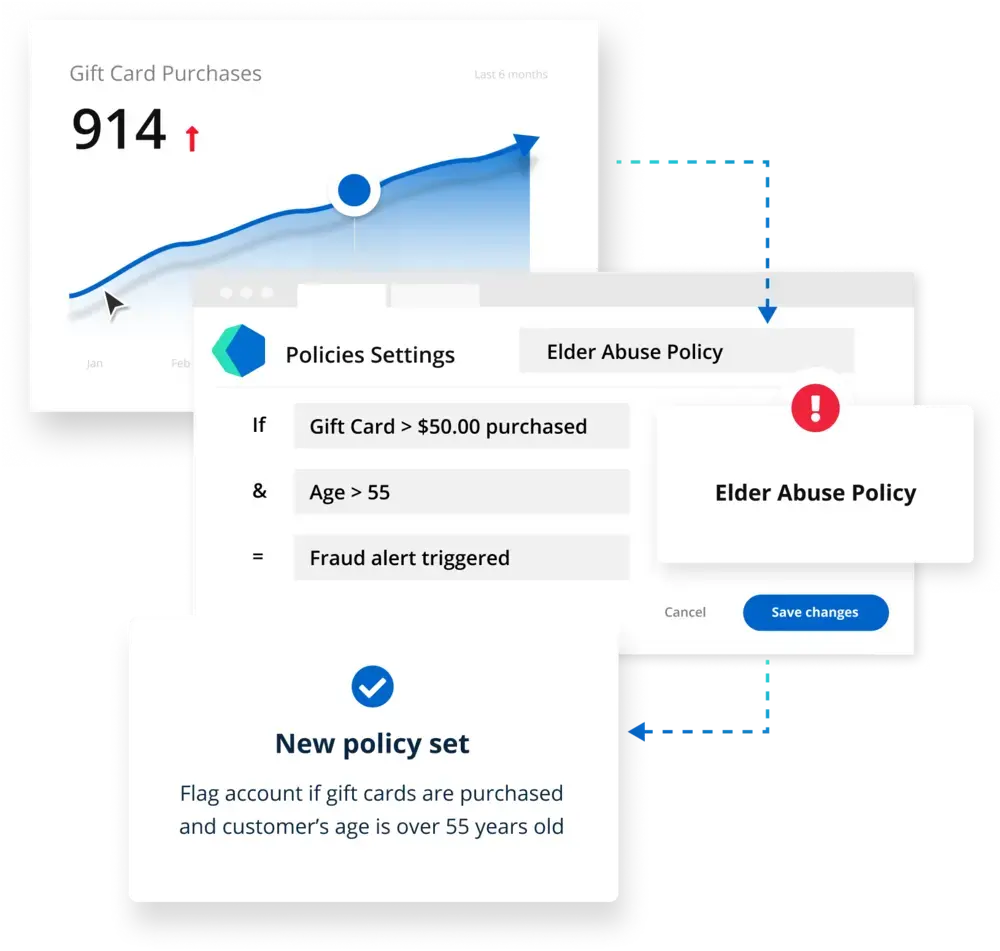 1.
Unusual activity is detected.
You notice customers making unexpected purchases — like buying gift cards for thousands of dollars. Or chargeback activity suddenly increases.
2.
Policies are set.
The technology is programmed to detect the new trend.
3.
Suspicious transactions are flagged.
The technology uses your pre-set policies to identify suspicious orders. Suspected cases of elder abuse are held for manual review. 
4.
Customers are contacted.
You reach out to customers making suspicious purchases to verify the transactions.
5.
Fraud is prevented.
You work with customers to stop elder fraud scams.
WHY STOPPING ELDER FRAUD ABUSE MATTERS
Benefits you can't afford to miss
Preventing elder fraud isn't your typical use case for fraud detection software. But it's still important to consider when looking for a provider. See what's at stake if you take preventative measures and if you don't.
WITHOUT prevention
Become a conduit for elder scams.
Neglect vulnerable customers.
Damage your reputation.
Lose revenue to large disputes.
WITH prevention
Protect elder customers from harm.
Foster better customer relationships.
Maintain a positive brand image.
Stop certain disputes from happening.
WHY CHOOSE KOUNT?
Fraud protection software that goes a step further
Protection against elder fraud isn't the only thing that sets us apart. Check out our other capabilities that make us unique.
Innovative technology
We've worked in the fraud industry for decades — watching as fraud trends come and go. Fraud threats evolve, and we believe our technology should too. We consistently look for ways to improve upon existing features to incorporate new threats, no matter how big or small they may be.
Age data
Obtaining data around your shoppers' age is hard to come by. We're one of the few providers who can access this kind of data and use it in transaction decisioning. With these unique insights, you can set additional controls around age that you might not be able to accomplish elsewhere.
Layered protection
We don't just focus on one aspect of fraud. We take a multidisciplinary approach. Our solutions protect multiple points in the customer journey — all on one platform. From new account opening fraud and account takeover prevention to card testing and friendly fraud, we got you covered.
Continual support
At Kount, we want to make sure you're experiencing all the benefits our technology has to offer. We provide ongoing support and guidance on how to get the most use out of the solutions you're paying for. As a result, you get the maximum benefit at the lowest expense. Plus, we can also offer tips to help improve business processes.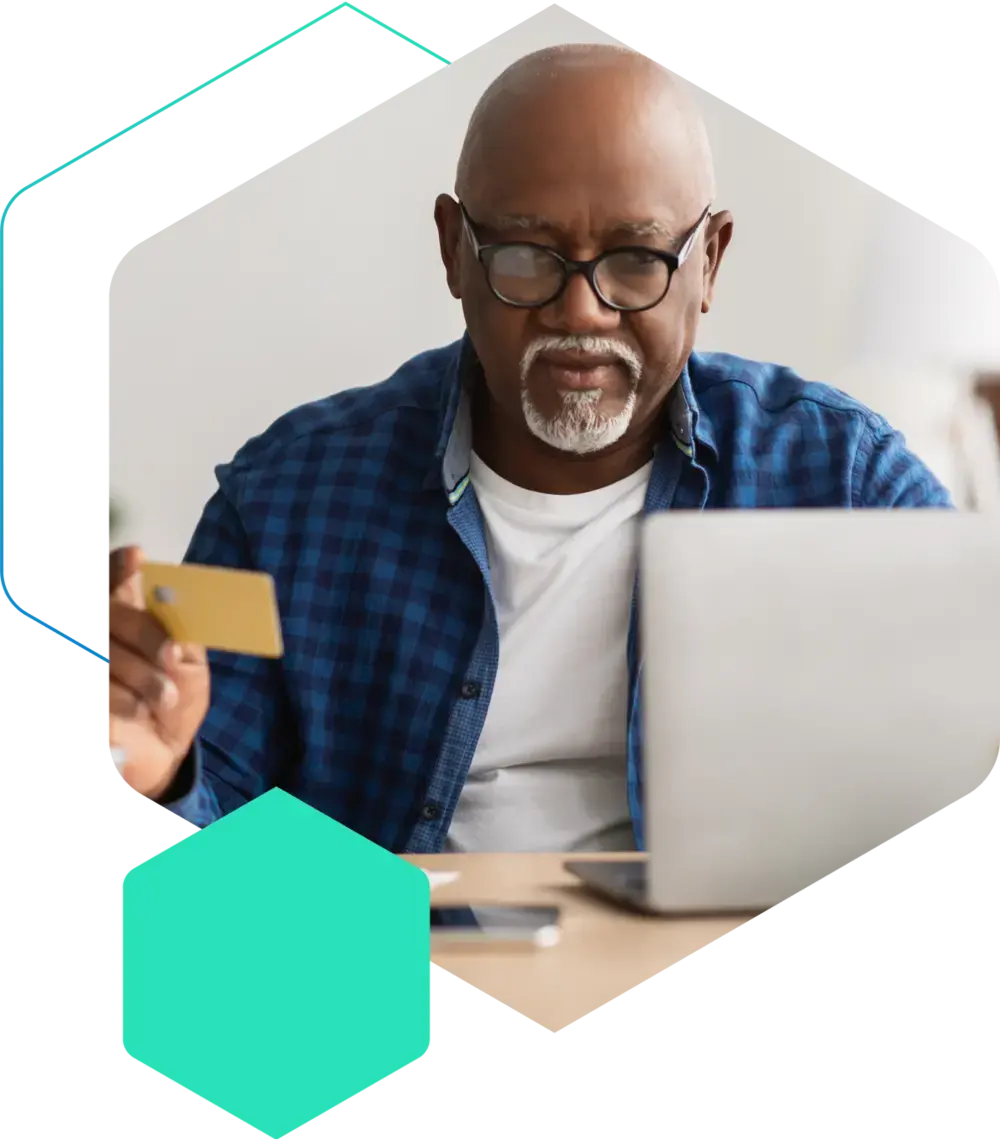 CASE STUDY
How Kount helped a national retail chain fight elder fraud abuse
Kount worked with a national retail chain that started having issues with chargebacks and disputes. When the retail chain investigated the issue further, they found the disputes were coming from elderly customers. 
According to the data, customers over the age of 80 accounted for just 2% of the business's purchase volume. Yet they were associated with 14% of the business's total fraud claims.
Unfortunately, these vulnerable customers were being coerced by criminals into buying gift cards for thousands of dollars. 
Working with Kount, the retail chain was able to set policies to flag these kinds of orders for manual review. Then, an employee would reach out to the customer and resolve the issue — avoiding a dispute. And more importantly, they could stop the elderly customer from being scammed.
QUESTIONS & ANSWERS
Frequently asked questions about elder fraud abuse
Elder fraud abuse involves manipulation of an elderly person to gain access to or control of their bank account, debit cards and credit cards, social security number, benefits, or assets.
According to the FBI Internet Crime Complaint Center, the most common types of elder fraud are technology and customer support scams.
Fraudsters target older adults because they may be socially isolated or not tech savvy — which makes it easier to scam or control them. Fraudsters may even illegally obtain a power of attorney to make financial decisions on the elder person's behalf.
The Department of Justice is an organization that fights to protect older Americans. Part of their efforts include sending law enforcement to investigate incidents such as phone call scams and abuse in nursing homes.
One way businesses can handle elder fraud abuse is by training their employees on common schemes. Also train them on how to appropriately engage with customers making large gift card purchases — especially if they appear to be in a targeted age group or under duress.
Additionally, businesses can report suspected financial abuse to local adult protective services or police. They can also call the National Elder Fraud Hotline to report an incident or suspicious activity.
The National Elder Fraud Hotline can be reached at 1-833–FRAUD–11 (or 833–372–8311).
According to the Elder Justice Roadmap, a research initiative funded by the U.S. Department of Justice, one out of every ten people aged 60 or older is a victim of elder abuse each year. However, not every case is reported, so the number of victims may be much higher.
GET STARTED TODAY
Stop elder abuse and other fraud threats
Thousands of companies from all over the world use Kount for digital fraud prevention. Will you be next? Sign up for a demo today, and see what it's like to have confidence in every interaction. 
---
Image

Schedule a demo
Your content has been unlocked!
Please enjoy your unlocked content below!
COMMON SCHEMES
Ways fraudsters are targeting older adults
There are so many avenues fraudsters take to steal from older adults. And sadly, many fall victim to these common schemes.
Romance scams - Fraudsters pose as interested romantic partners on social media or dating websites. Eventually, they offer fake investment opportunities in cryptocurrency or pretend to be in a dangerous situation that requires ransom money.
Technical support scams - Often fraudsters pose as technology support representatives — calling up victims and offering to fix non-existent computer issues. They use this scam to gain remote access to victims' devices and personal information.
Grandparent scams - In this scam, a fraudster poses as a relative of the victim — usually a child or grandchild — and claims to be in financial trouble or physical danger that requires ransom money.
Government impersonation scams - Sometimes fraudsters will pose as government employees and threaten to arrest or prosecute victims unless they pay the government a certain amount of money.
Sweepstakes and lottery scams - In this scam, fraudsters claim to work for legitimate charitable organizations and ask for donations. Or they tell their victims they have won a foreign lottery or sweepstake and can collect the winnings for a fee.
Family/caregiver scam - Sadly, fraudsters aren't the only ones who commit elder fraud abuse. Relatives or caregivers providing long term care often take advantage of the elderly. They do this by illegally obtaining a power of attorney to take control of the elder person's finances.
This list is not exhaustive of all the scams out there. As economic conditions change and technology improves, so do the schemes that fraudsters come up with. The Federal Trade Commission is a good resource to consult for current scams.
DISCOVERING ANOMALIES
What fraud data can help you uncover

Sometimes all it takes is a closer look at the data you have right in front of you to discover unusual behavior.
What may seem like a typical case of payment fraud — a fraudster making large illegal purchases with stolen cards — might actually be atypical. Like an elderly customer being coerced into making purchases they might not otherwise make.
There's a close correlation between age and fraud. So high levels of fraud coming from customers over the age of 70, for example, could indicate that elder financial abuse is happening.
But you have to look deeper into your data to find these patterns — which can be challenging. The amount of data you have affects your ability to conduct robust analyses. And age data is difficult to find. However, payment fraud prevention software — like Kount — can get you there.
SIGNS & WARNINGS
How to spot elder fraud abuse
How can you tell if elder fraud is happening at your business? There are a few red flags to look for. Keep in mind that these warning signs may indicate financial abuse only when they come from persons over a certain age.
Increase in chargebacks
If you notice an increase in chargebacks, look closely at the data. Are those chargebacks coming from certain types of orders? What is the average age group of the customers making those purchases?
Sudden changes in account activity
Sometimes family members or criminals coerce elderly people into withdrawing all their financial assets. If you notice an older customer making large withdrawals from banks or draining stored value from online accounts, it could be a sign of abuse.
Large gift card purchases
It's uncommon for someone to make multiple purchases of gift cards in high dollar amounts during regular shopping periods. But it's even more cause for concern when older adults make those kinds of purchases. It's likely that someone has manipulated them.