MITIGATE CARD TESTING ATTACKS
Prevent card testing fraud with digital fraud prevention
Having trouble staying ahead of card testers? Wondering if there's a better way to stop new attacks and protect card-not-present payments? Look no further. Kount can stop card testing fraud in milliseconds — and with unmatched accuracy.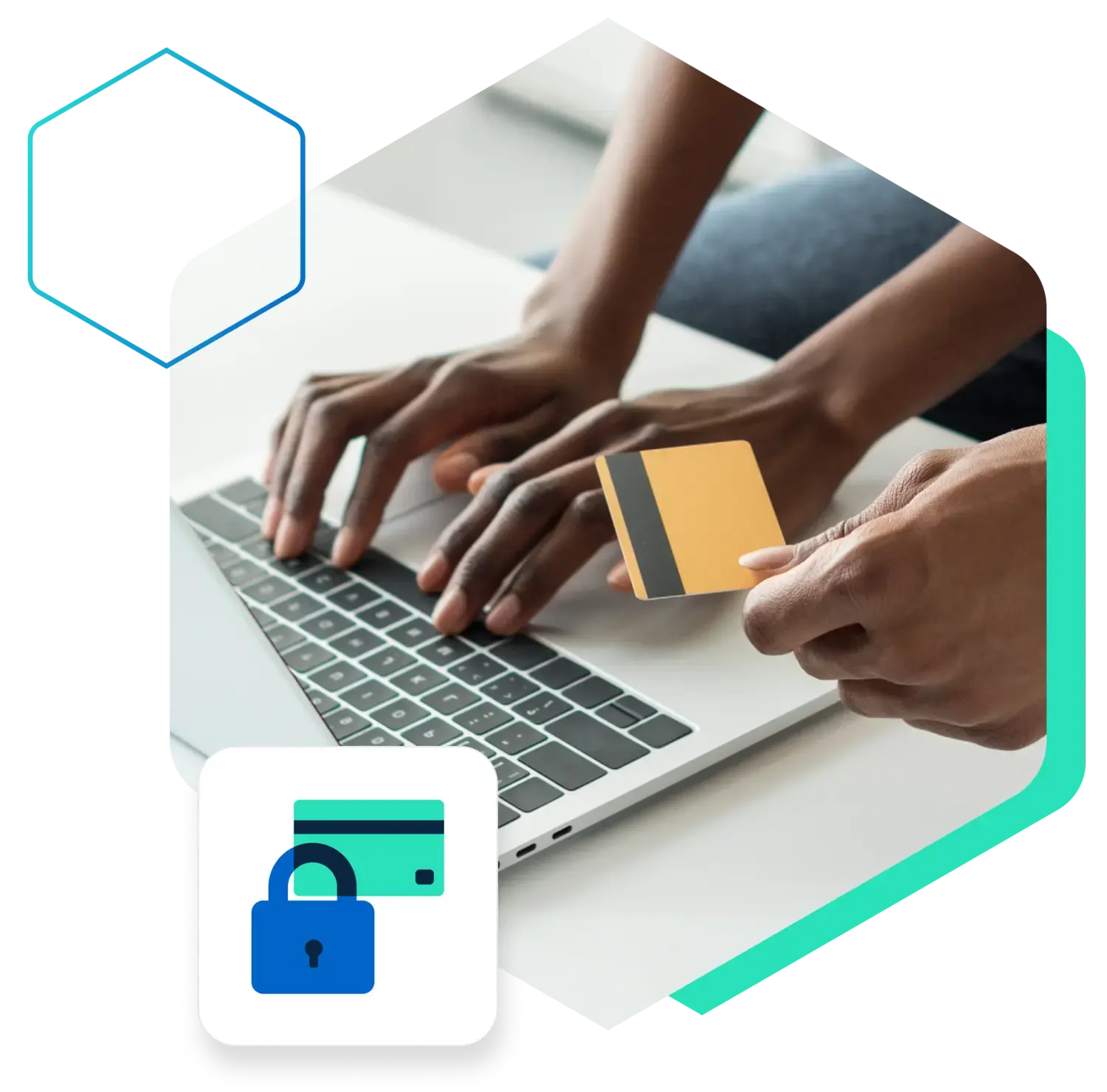 FRAUD DETECTION SOFTWARE
How Kount helps stop card testing
We know how easy it is for fraudsters to test cards. And we think the solution to stopping them should be easy too.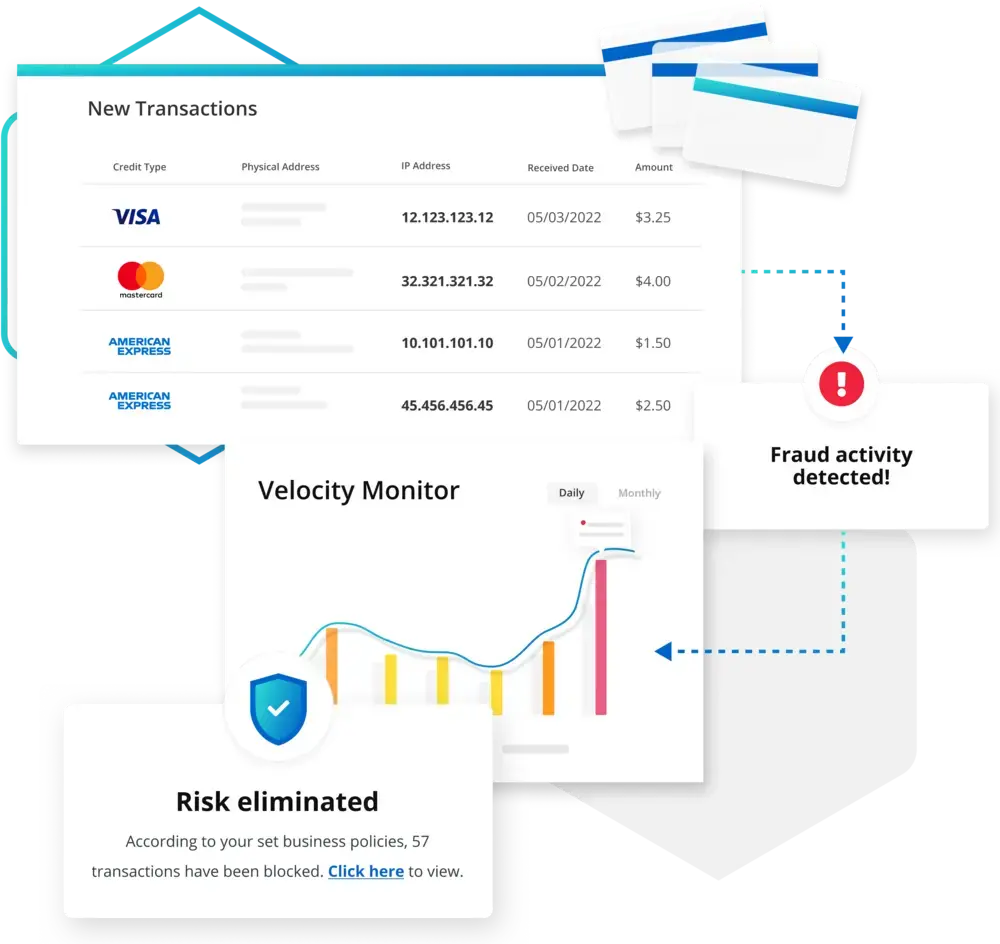 1.
Small purchases are attempted.
A fraudster attempts to validate cards by making a bunch of low-cost purchases.
2.
Fraud indicators are evaluated.
The technology looks at card information, IP address, physical address, and more to verify that the information from the purchaser matches the cardholder information.
3.
Additional velocity checks are made.
The technology analyzes interactions on the site to identify patterns of behavior not consistent with typical shoppers — such as unusual shopping time patterns or high velocity activity from bots.
4.
Transactions are blocked or challenged.
The technology consults business policies and blocks transactions that exceed risk thresholds.
PAYMENT FRAUD PREVENTION FOR CARD TESTING
Benefits you can't afford to miss
What happens if you don't protect your business against card testing? See what's at stake if you do and if you don't.
WITHOUT protection
Suffer from an increase in chargebacks.
Risk enrollment in chargeback monitoring programs.
Pay unnecessary fees.
Process risky transactions.
Jeopardize payment processing privileges.
Become a gateway to bigger crimes.
WITH protection
Reduce disputes and chargebacks.
Develop an effective chargeback management strategy.
Avoid unnecessary expenses.
Provide secure online payments.
Maintain good standing with processors.
Protect your reputation.
WHY CHOOSE KOUNT?
Fraud tools that stay ahead of the competition
Some fraud providers also offer card testing prevention. So what makes Kount different? Find out what sets us apart.
Accurate results
Kount has the unique capability of using two types of machine learning. And how does that improve the accuracy of fraud detection software? Because we can anonymize user data. Meaning, we can analyze past behaviors — like fraud attempts and chargebacks. And we can understand current attributes — like types of device or number of email addresses.
Extensive fraud expertise
It can be frustrating looking for a provider that truly understands the issues your business faces. But we genuinely do. We pay attention to evolving fraud trends and research the latest issue businesses currently face. That way, our conversations with you are always productive and helpful.
Responsive support
Do you have vendors that take days or weeks to respond to your questions and concerns? Not us. We love to hear from our clients, no matter the kind of feedback we get. But more than that, we love to help solve our clients' problems. Work with us, and we guarantee you'll always get a response in a timely manner.
Unmatched data network
We've been collecting data for decades from businesses all over the globe. Not only does this mean we have the industry's most expansive database, but it also means we have a greater understanding of patterns, trends, and opportunities. Better data leads to more accurate decision-making.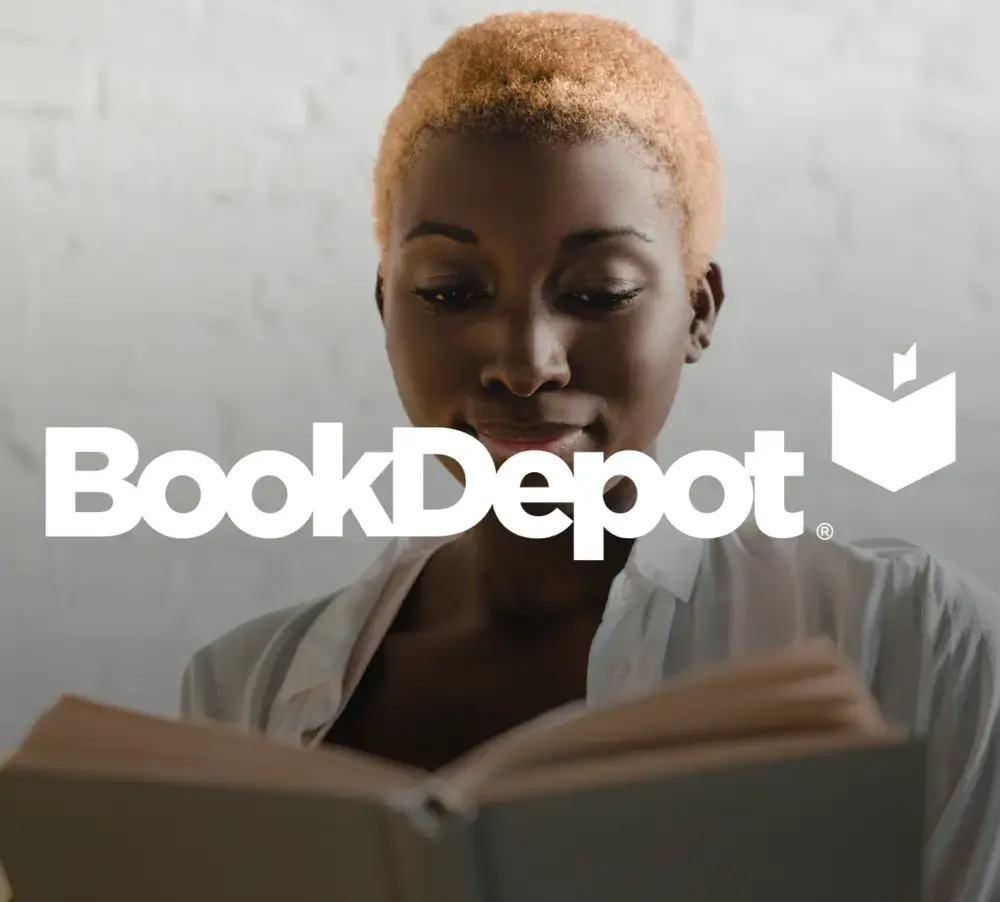 TESTIMONIALS
See what Kount can do for you
When Book Depot came to Kount, they had an all-consuming issue with card testing. They spent the workday and weekends dealing with excessive chargebacks, order fulfillment issues, and patching up their internal software. No matter what they tried, they couldn't get ahead of the problem.
Once they implemented Kount, their problems quickly resolved. Automation cut manual review rates in half — giving back time for the company to focus on accomplishing their goals and mission.
QUESTIONS & ANSWERS
Frequently asked questions about card testing fraud
Fraudsters typically obtain a list of card numbers from data breaches or they purchase a list from the dark web. Sometimes, they attempt phishing scams to get payment information. For example, they may send fake, official-looking emails from banks or retail stores asking victims to click a link or call a phone number and give out personal information. 
Bots are software programs designed to run tasks automatically. They can run tasks like inputting card information on a checkout page in seconds. As a result, they can test hundreds, even thousands, of cards per hour. Because bots speed up the card testing process, handling the issue can quickly become unmanageable or, in some cases, impossible to do on your own.
Fraudsters typically target businesses that process a lot of low dollar transactions — such as quick service restaurants. Card testing works when a fraudster can make a large number of small purchases in quick succession. And a business that accepts small orders will likely not notice the fraud right away, so it's easy for fraudsters to get away with it.
When you have fraud issues, sometimes it's difficult to know what the root cause is. With card testing, there are a few key indicators that can tell you if you're experiencing this issue.
The first thing you want to watch for is changes in trends over time — such as sudden increases in decline rates or a spike in chargeback rates. Then, you'll want to investigate those trends further by looking at real-time interactions happening on your site.
For example, If you see dozens of low-dollar transactions happening in quick succession paired with a high number of declined orders, you most likely are experiencing a card testing attack.
Check out our blog for more information about the warning signs of card testing fraud.
You can avoid card testing by improving the security parameters on your website. That includes adding CAPTCHAs, setting up firewalls, requiring card security codes, running AVS checks, and monitoring IP addresses. These tools can help you mitigate large attacks performed by bots and prevent fraudsters from making purchases with stolen cards.
Additionally, you can add account takeover prevention so that fraudsters cannot hack into and use customer accounts to test cards.
While these tools can help, fraud detection software is truly the only way to detect and stop these attacks completely. Plus, it can be a hassle trying to monitor so many different things on top of running your business.
That's where Kount comes in. Our industry-leading technology can prevent a variety of fraud types — all on one platform.
Once fraudsters find valid cards they often go on to make larger purchases — with you or at other businesses. Or they might sell the list of valid card numbers online so that someone else can commit other acts of fraud.
GET STARTED TODAY
Stop card testing with fraud prevention software
Thousands of companies from all over the world use Kount to prevent card testing fraud. Will you be next? Sign up for a demo today, and see what it's like to have confidence in every interaction. 
---
Image

Schedule a demo
Your content has been unlocked!
Please enjoy your unlocked content below!
LEARN MORE
How to reduce bot-led attacks
Bots are used in all kinds of fraud schemes aside from card testing including credential stuffing, account takeover fraud, streaming fraud, and more. Essentially, no tasks are off limits for a bot, especially given the advancements in modern technology.
Fraudsters use bots because they can accomplish their end goal much faster than they could on their own. And that goal is to use your business to make a profit — whether that's from finding valid card numbers or stealing stored payment information from customer accounts.
Bots are so commonly used in fraud schemes that you need to consider protection against them in your fraud and chargeback management strategy.
So what can you do?
Identify bot-related activity.
Bots don't follow typical human behavior and purchase patterns. You can identify signs of bots by abnormalities in URLs accessed, mouse movements, and site engagement. 
If you also notice an uptick in customer service calls, chargebacks, and declined orders, you could be a target of bot-led card testing attacks.
Improve security protocols.
Implement tools that allow you to monitor your site traffic — such as a firewall or device fingerprinting — so you can spot bot traffic before it strikes and shut it down. 
Additionally, add safety protocols that deter bots — like CAPTCHAs or multi-factor authentication. You can also require that users enter their card security codes when checking out. Lastly, consider using the address verification system (AVS) to validate billing information.
Implement technology.
The most effective way to stop bots is to use technology that can block high-velocity activity as well as more sophisticated bot attacks. Fraud prevention software can quickly detect bot activity and automatically block those interactions. It's the most efficient and effective way to resolve bot issues.
Industries we work with
We work with a variety of businesses in all industries. Find out more about how Kount can address your specific needs.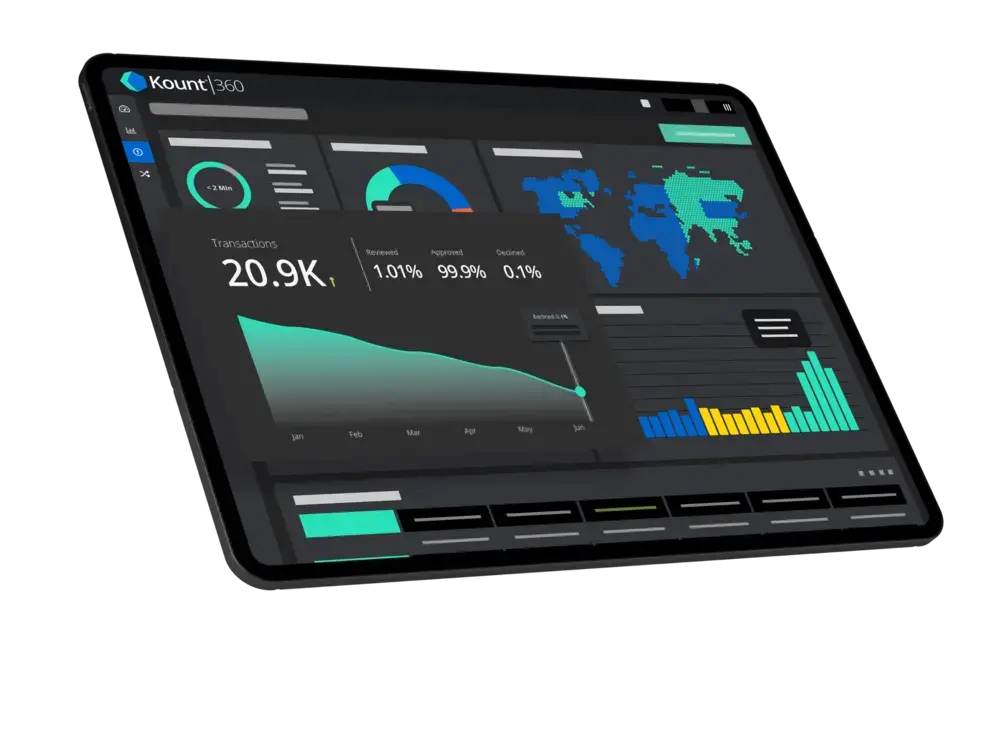 GET STARTED TODAY
Stop card testing with Kount
Ready to put a stop to card testing? Kount can help. Our team of experts can provide an end-to-end strategy to address any fraud threat your business is facing — including card testing. Sign up for a demo today to learn more.