PROTECT LOYALTY POINTS AND REWARDS
Improve customer experiences with loyalty program fraud prevention
Customers tend to shop more with brands that offer loyalty program rewards. However, without the right protections in place, those rewards programs can invite fraud into your business. But Kount can help. We detect and prevent a variety of loyalty program schemes. With us, you can worry less about fraud and focus way more on growth.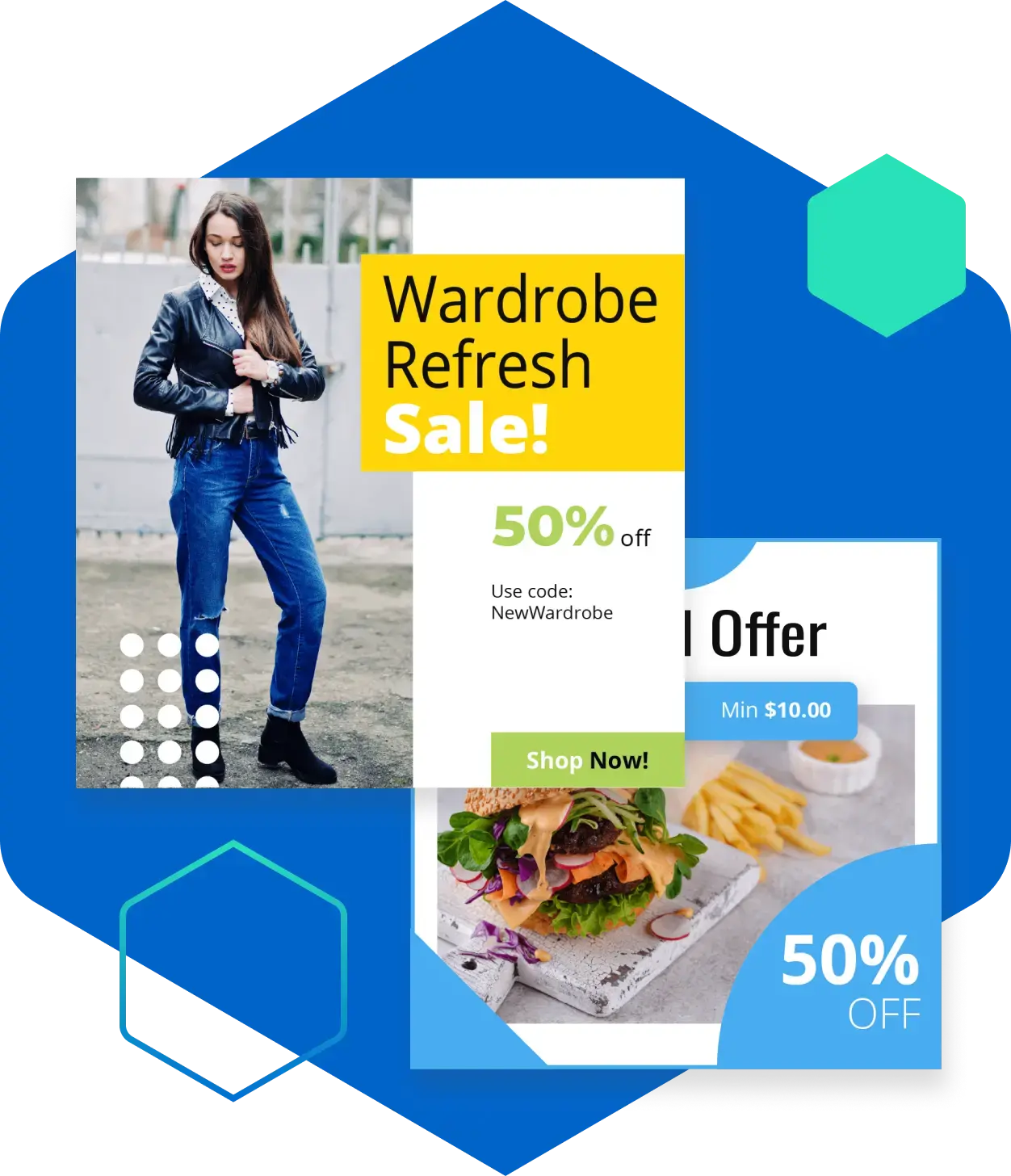 FRAUD DETECTION SOFTWARE
How Kount can prevent loyalty fraud
Loyalty fraud often happens because of account takeover (ATO) fraud or policy abuse. We offer multiple layers of protection to prevent fraudulent activity at all points of the customer journey.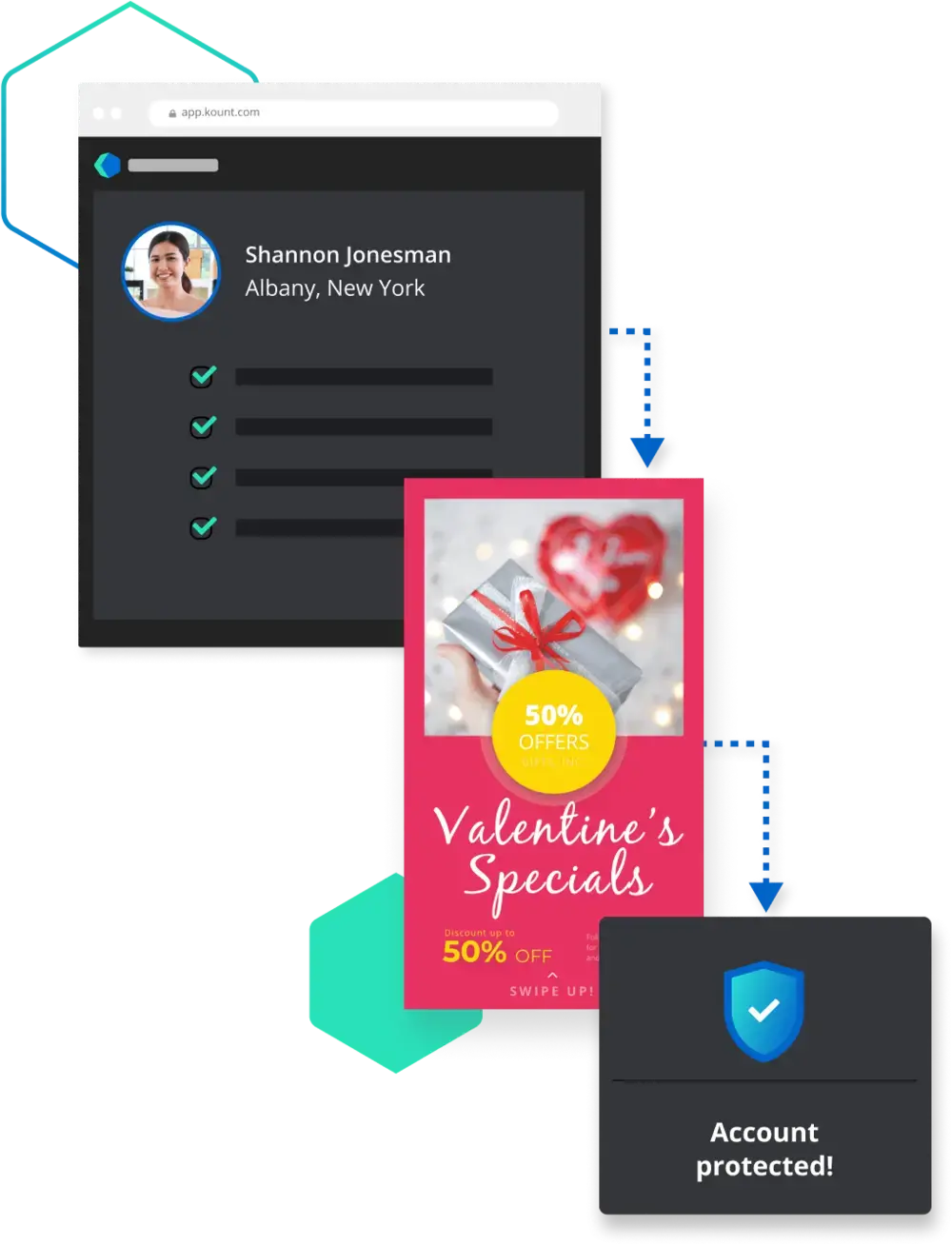 Account creation
We tackle fraud at the point of sign up using digital identity verification tools. We assess data — such as device, IP address, and digital identity data — to determine if a customer is legitimate or not and is following your business policies.
Learn about new account fraud prevention.
Coupon redemption
We offer completely customizable business policies so that you can create rules around certain promotions to limit abuse and discount fraud. And when we say customizable, we mean you can set up unique policies for each promo offering.
Learn about flexible business policies.
Ongoing account protection
We stop ATO attacks by evaluating user and device attributes — such as email address, device type, user location, and more — to identify risky logins. Then we block or challenge them. From there, we continually monitor accounts for suspicious activity.
Learn about account takeover prevention.
CUSTOMER LOYALTY
Why preventing loyalty account fraud matters
Curious about what happens if you don't invest in loyalty program fraud prevention? See what's at stake if you do and if you don't.
WITHOUT prevention
Jeopardize account safety.
Hurt customer relationships.
Earn a bad reputation on social media.
Waste marketing spend.
Manually review suspicious interactions.
Poorly use limited resources.
WITH prevention
Keep customer accounts safe.
Build trust with customers.
Maintain a positive brand image.
Provide offers to the right customers.
Automate fraud detection.
Spend time on growth opportunities.
WHAT MAKES KOUNT SPECIAL
Fraud prevention software that works in real time
Why choose Kount for loyalty fraud protection? See what sets us apart.
Complete strategy
Every aspect of your business should be protected so you can grow safely and confidently. From reducing false declines to helping you avoid chargeback monitoring programs  — our technology has you covered. And you can access it all with one platform. 
Diverse portfolio
We work with clients in a variety of industries. So we're constantly expanding our knowledge and improving upon our expertise. That means we're fully prepared to help you with any emerging threat, no matter what kind of business you run.
Fair pricing
At Kount, you only pay for what you need. Many of our solutions are priced on a per-interaction basis. However, we work with your budget and business goals to build a solution package that's right for you. And when you bundle multiple solutions, you'll save even more!
Customizable solutions
Every business is unique. What works for others may not work for you. Kount truly allows you to customize the technology to fit your unique business needs. Create policies for one type of product and different policies for another. With us, you're always in control.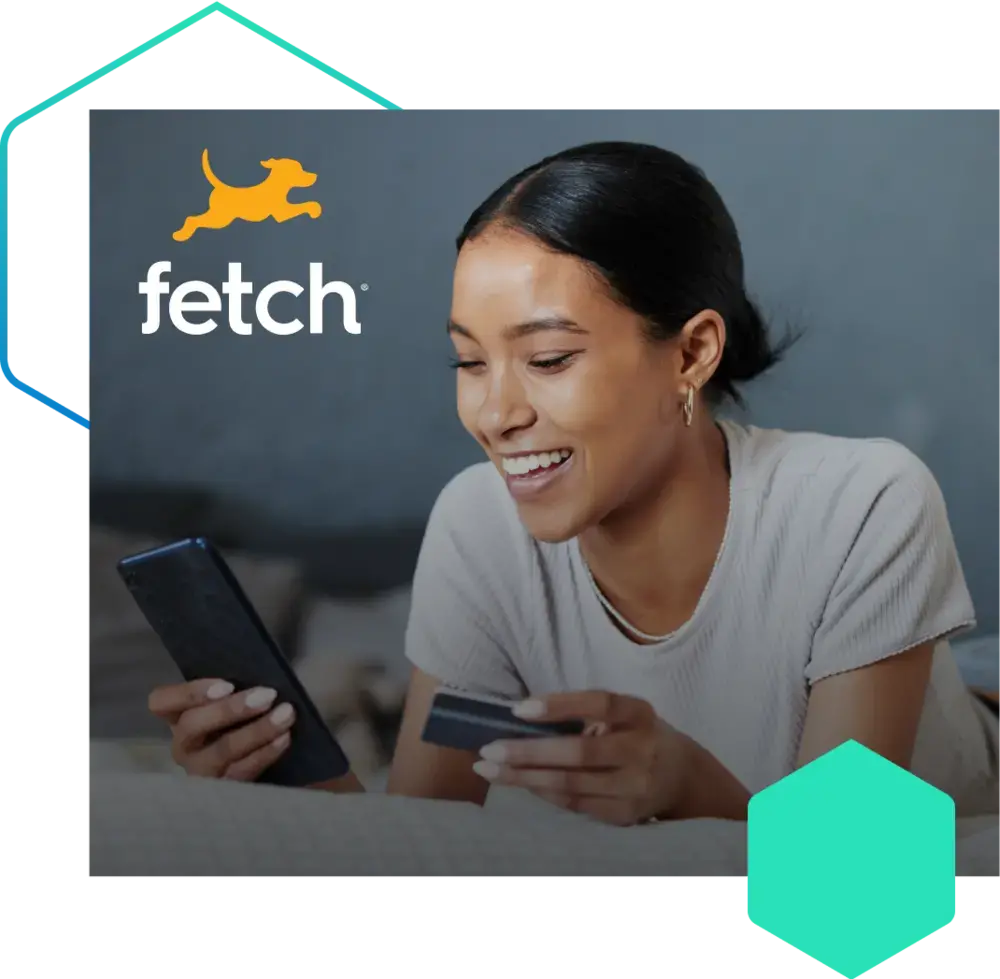 TESTIMONIALS
Hear what our clients have to say
One sign-up promotion caused an influx of fake new accounts for Fetch Rewards. And the problem quickly grew out of hand. Employees spent countless hours of overtime manually reviewing transactions.
Kount helped Fetch get the issue under control and prevent future instances of promo abuse. Additionally, using Kount's data, Fetch was able to create better, more targeted ad campaigns to bring in more revenue.
QUESTIONS & ANSWERS
Frequently asked questions about loyalty program fraud
Still have unanswered questions about loyalty program fraud? Check out our most commonly asked questions for more information. And if you have further concerns, reach out to us. 
Despite the potential fraud risks that come with loyalty programs, they are incredibly beneficial for businesses. They can encourage customers to return over and over — which is a more profitable way to increase revenue than trying to acquire new customers.
Not only that, but customers now expect most businesses to have loyalty programs in place. Some customers may not do repeat business with you if you don't already have a program that allows them to collect rewards and build up points.
Plus, if you have the right technology in place, you don't really need to worry about the risks.
No, the right fraud prevention software will not add more customer friction. Our technology is incredibly accurate — collecting and analyzing billions of data points to make fraud decisions. Legitimate customers shouldn't experience any increase in friction just because you implement a fraud solution. In fact, we can help you reduce friction for good customers.
Here's an overview of how it works.
A customer interacts with your business.
The technology collects data about the customer — such as location, device type, IP address, and more.
The technology analyzes these data points in miliseconds to identify potential risk.
Your policies are consulted and the customer is either accepted or blocked.
Additionally, we offer verification protocols — like passwordless authentication — that can reduce friction for known customers. The right fraud prevention solution can open the door to greater business efficiencies and new possibilities. 
With Kount, the answer is yes, you can! We give you total customization over rules and policies. If you want to create a special one-time promotion for a new item, you can set up a specific set of rules for that promotion in addition to the rules you use for other promotions and transactions. For example, if you know that item may attract a higher rate of fraud, you can create stricter rules — like outright blocking transactions from locations with high fraud risk. 
You can try to reduce loyalty fraud by boosting your website security — like adding CAPTCHAs and setting up firewalls to deter bots. These security protocols can also help mitigate other types of fraud, such as card testing.
Secondly, you can educate your customers about their account value and require them to use strong passwords. Most account takeover attacks are successful because customers use weak, easy-to-guess passwords that they use across multiple online accounts. Encouraging them to use strong passwords can help mitigate account takeover fraud.
Additionally, you can delay redemption periods or return windows to discourage customers from taking advantage of promotional offerings. 
Lastly, you could personalize the promotions you offer. For example, if you want to attract new customers, maybe you run a less-expensive promotion, like offering 5-10% off the first order. And if you want to reward good customers or encourage some to shop with you that haven't shopped in a while, you could offer better promotions, such as buy one item, get one free or 40% off one item.
By far, the most effective way to mitigate loyalty fraud is by using technology that can do it all for you — from screening each user that interacts with your business for risk to blocking suspicious activity. 
GET STARTED TODAY
Stop loyalty rewards fraud with digital fraud prevention
Thousands of companies from all over the world use Kount's fraud protection software to protect loyalty program members. Will you be next? Sign up for a demo today, and see what it's like to have confidence in every interaction. 
---
Image

Schedule a demo
Your content has been unlocked!
Please enjoy your unlocked content below!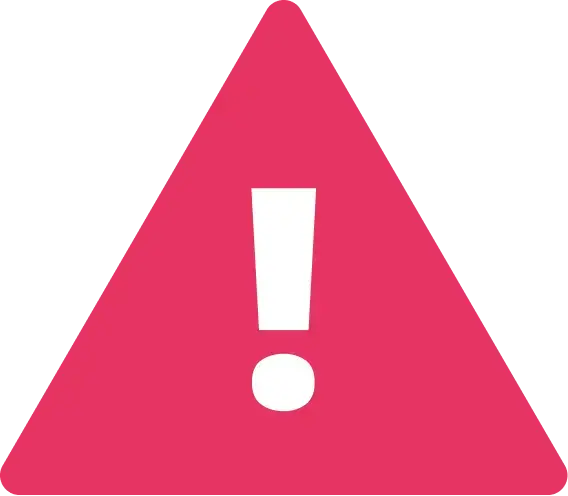 New account opening fraud
Fraudsters and opportunistic customers commit new account fraud when they create multiple accounts to accumulate loyalty points or redeem sign up bonuses. Fraudsters also might create fake accounts to transfer loyalty points from one account to another.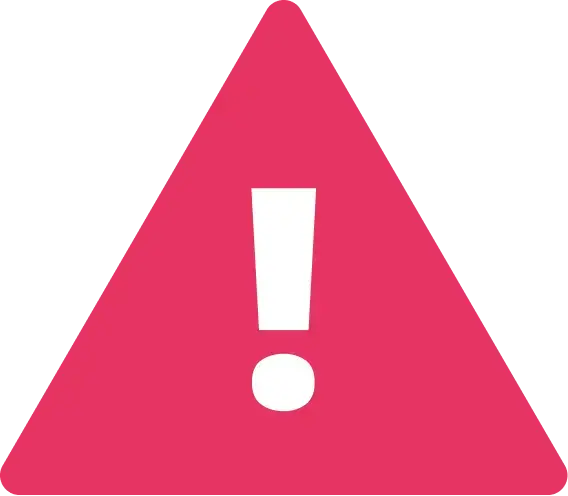 Account takeover fraud
Account takeover fraud is an attempt to gain unauthorized access to a customer's account. Fraudsters launch ATO attacks to steal loyalty points, drain any stored account value, or steal payment information — like debit cards and credit cards.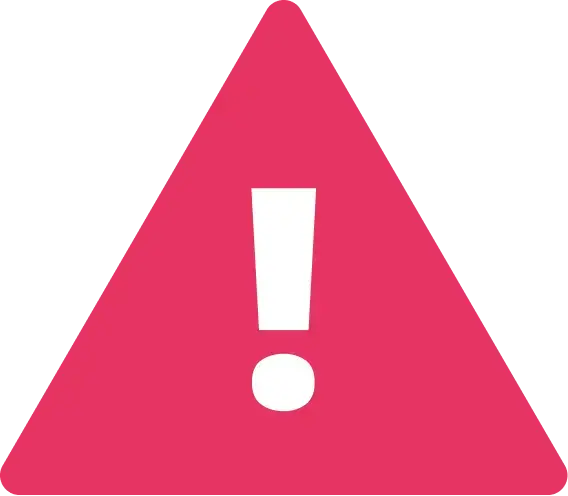 Policy abuse
Policy abuse is about exploiting loopholes in rewards program rules or taking advantage of its benefits.For example, if you offer a free item for customer birthdays, they may accept the item and later try to return it to get a refund.
THE HONEST TRUTH
Why fraudsters target loyalty programs

Loyalty programs are implemented as a way to improve customer retention and increase profits. It's a marketing effort — and a good one at that. 
However, these programs are often overlooked in terms of the value they hold for customers. Merchants typically don't exercise the same caution as they do with other transactions. And that leaves customer loyalty accounts at risk.
On top of that, customers don't think about their accounts getting hacked. They don't understand why someone would target them, so they don't see their accounts as being at risk.
The thing is, most customers reuse passwords across multiple online accounts, which already puts them at risk for an attack. They also most likely have an easy-to-guess password. Combined, these practices are a recipe for disaster.
Imagine the following scenario.
Sally uses an old password she's had since the first email account she ever created on all her online accounts. The password is Sally121594 — a combination of her name and birthday.  So, she uses this password for her loyalty program accounts with her favorite retail stores, her streaming account, bank account, digital wallet, social media accounts, and an online learning service.
Say there is a data breach tied to one of the loyalty programs. Her account credentials are leaked on the dark web and a fraudster gets ahold of them. The fraudster hacks into her streaming account, learns her address, bank, and other personal information stored on the account, and attempts to hack into more of her online accounts. Because Sally uses the same password across these accounts, the fraudster is able to get into her her loyalty rewards accounts, bank account, and streaming account.
The fraudster then starts making large purchases online using her bank information, depletes any stored value on her loyalty accounts, and changes the credentials to her streaming account. Sally is devastated when she discovers the damage that has been done.
Unfortunately, this scenario is very common. All it takes is one successful account takeover attack for fraudsters to get the information they need to hack into multiple accounts.
You can help prevent account takeover attacks from happening by reminding customers about account security. Require that they use a strong, unique password when creating an account. Then, encourage them to change that password every so often for extra security.
However, password security most likely won't stop the issue completely. The best thing you can do is give your customers real protection — with a solution that keeps accounts safe and fraudsters out.
LOYALTY MARKETER
5 loyalty marketing tips to improve customer relationships and drive retention
Trust plays an important role in customers' purchasing decisions. Shoppers tend to buy more from brands they know. But building that relationship with customers can take time.
One way to expedite that relationship is with loyalty marketing — efforts to drive customers back to your business. Here, we offer some tips that can help bolster your marketing efforts and make you an all-around better loyalty marketer.
Provide opportunities for customer feedback.
A great way to build trust with your customers is by soliciting their feedback. Create channels that allow honest and open feedback between you and your customers. That could look like:
Creating spaces on social media for individuals to contribute ideas, suggestions, or reviews.
Sending out surveys.
Soliciting reviews for social media and the web.
The most important part in this dialogue is your response. Are you willing to listen to your customers and take their feedback into account when launching a new product or improving upon old designs? 
Making improvements to your business that customers have specifically requested shows that you value them. It's a stepping stone towards building a long-lasting relationship of trust.
Engage with customers on social media.
Just because a customer leaves your store or your site doesn't mean you can't continue to engage with them. These days, lots of shoppers find brands through social media and will continue to support those brands with the right levels of engagement.
Consider hosting contests or giveaways on your social platforms to remind customers of your brand. Also consider featuring images of customers wearing or using your products. This helps them feel part of a larger community and seen by your brand.
Respond to comments and negative reviews left on your posts. This shows shoppers that there are actual humans behind the screen and that you care about what they have to say.
Offer loyalty rewards programs.
Loyalty programs can revolutionize customer engagement with your brand. Consider the success of Sephora's Beauty Insider program. A good portion (80%) of their sales come from the rewards program.
These programs are beneficial because it keeps customers engaged and provides the kind of incentives that invite them back to your business over and over again. Give out generous rewards — like free items for birthdays — and customers will likely choose you over another brand that doesn't have loyalty incentives.
Create a referral system.
A great benefit of investing in your customers is that you can often get free marketing just through word of mouth recommendations. However, you can boost the likelihood of those recommendations by creating a referral program that incentivizes customers to recommend your brand.
For example, you can offer discounts on products or services when a customer refers a friend to your business.
Personalize offers and product recommendations.
A bonus to loyalty programs is the extra data that you can gather about your customers. Because these programs keep track of customers' purchases and buying behavior, you gain valuable consumer insights that you can use in marketing campaigns.
Those insights also help you make better, more personalized product recommendations and discounts to each customer.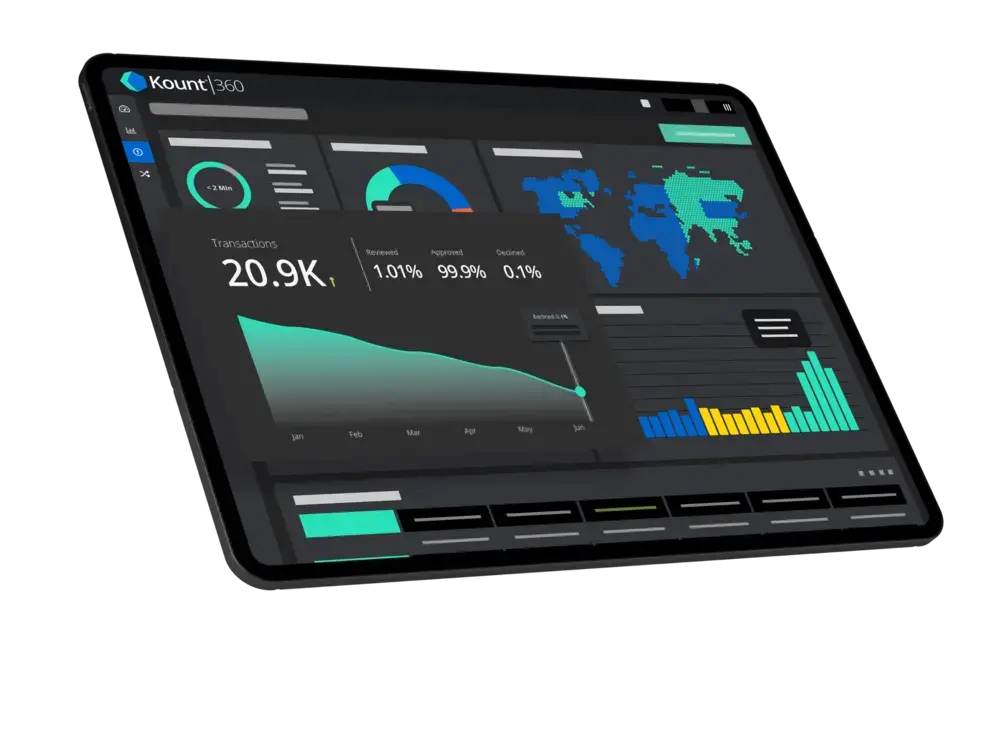 GET STARTED
Stop loyalty fraud today
Tired of loyalty programs doing more harm than good? Want to do more sales with good customers? Kount can help. Sign up for a demo today to learn more about detecting and preventing loyalty program fraud.