GIFT CARDS ONLINE
Save revenue with gift card fraud prevention
Digital gift cards are great for increasing profits, especially during holiday shopping seasons. But just like any other online payment type, they come with risks — like card testing attacks and account takeover fraud. Fortunately, with the right digital fraud prevention software, you can reduce those threats.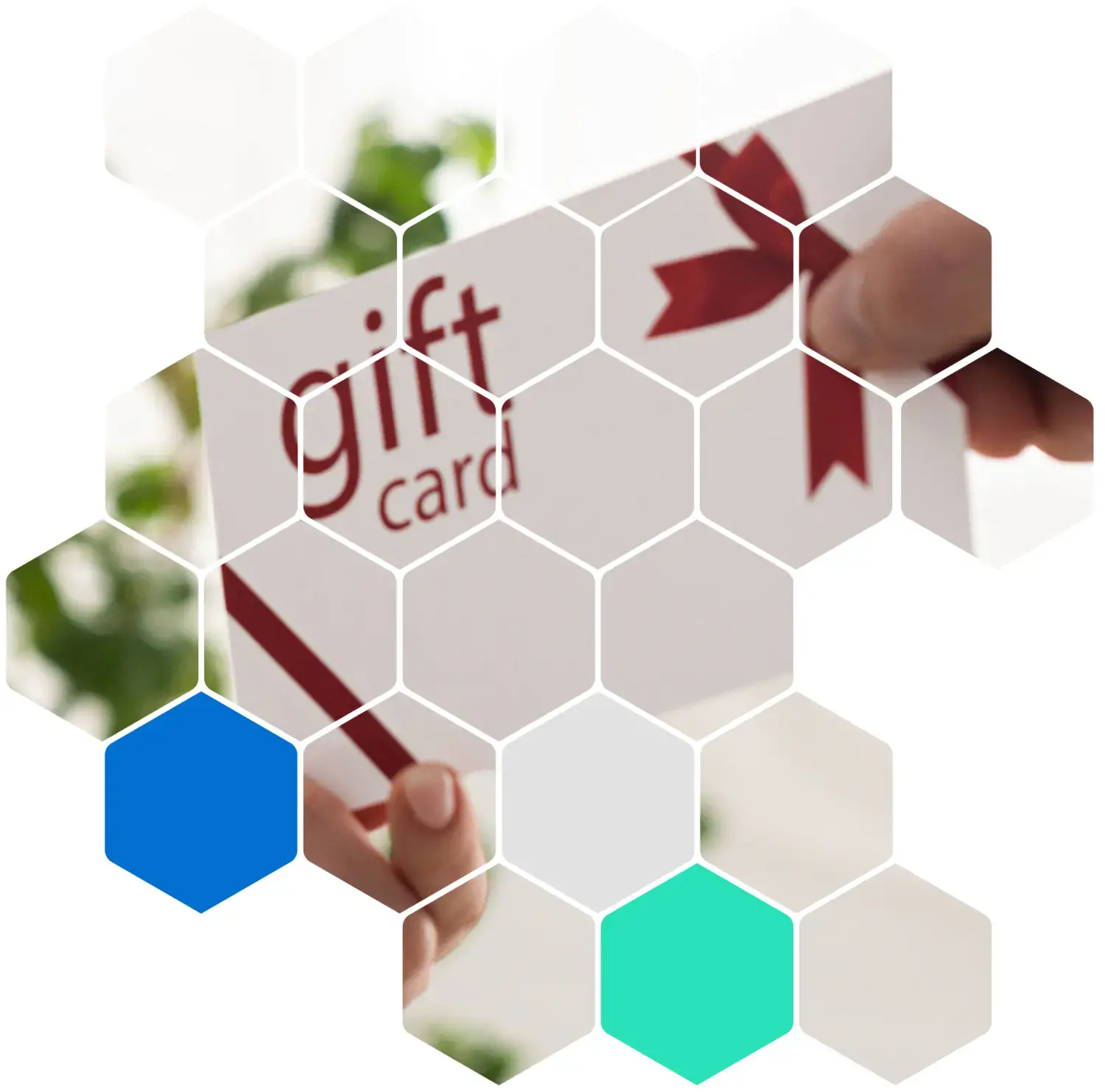 AVOID GIFT CARD SCAMS
How Kount stops e-gift card fraud
Shutting down gift card fraud schemes doesn't have to be complicated. Let technology do all the heavy lifting so that you can focus on what you do best.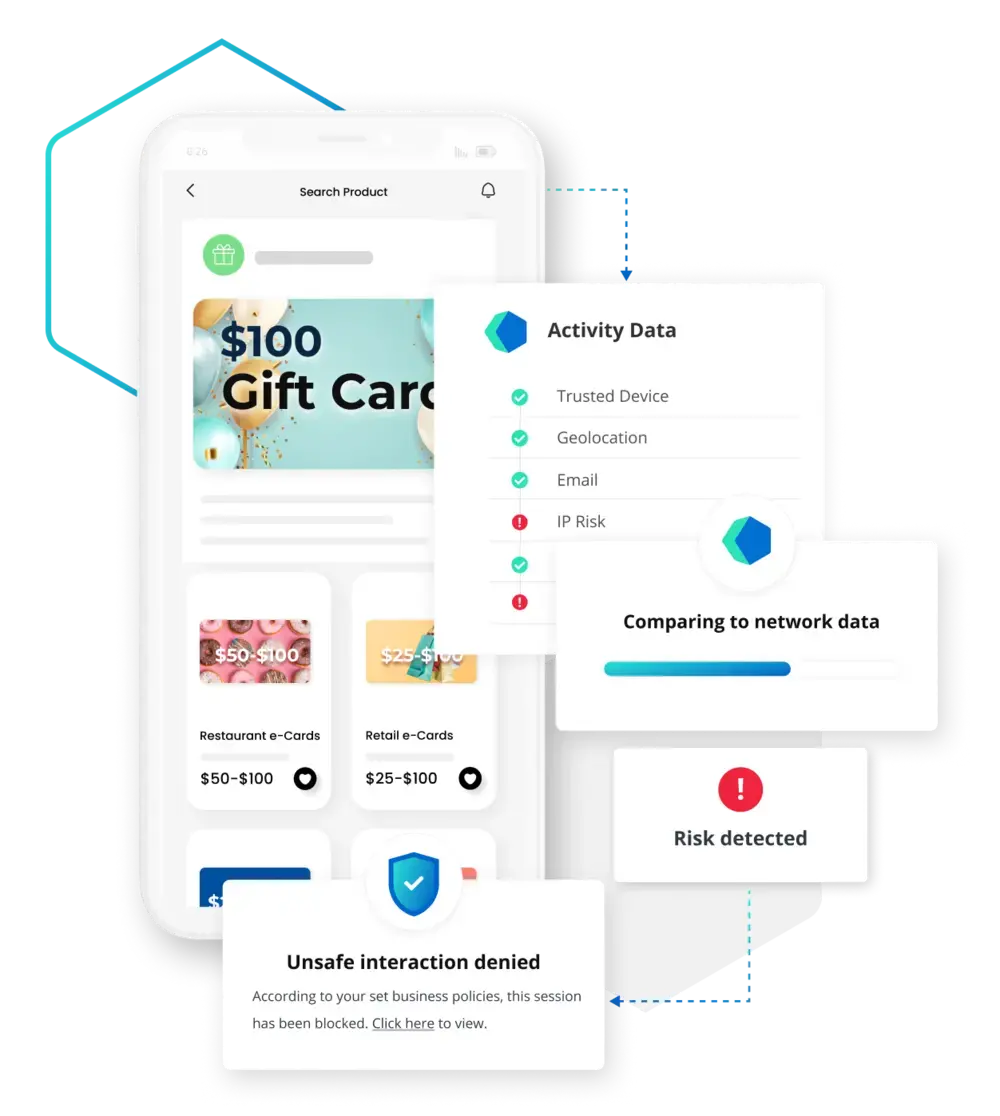 1.
Interaction data is collected.
From login to checkout, the technology collects data — device ID, IP address, location, email address, and more.
2.
Data provided is compared to data in the network.
The technology evaluates the collected data against the historical data in Kount's network.
3.
Risks are checked and a safety score is determined.
The technology identifies or rules out any red flags for fraud, then produces a safety score based on findings.
4.
The interaction is approved, challenged, or denied.
The technology consults business policies to determine if the interaction should be approved or blocked.
Protection at every step
Gift card fraud can happen at any point in the customer journey. From login to checkout, our solution protects you and your customers.
WHY IT MATTERS
Keep gift card data and customers safe
Curious about what happens if you don't invest in gift card fraud prevention? See what's at stake if you do and if you don't.
WITHOUT prevention
Put customer accounts at risk.
Harm customer relationships.
Earn a bad reputation on social media.
Manually review suspicious interactions.
Lose money to chargebacks
WITH prevention
Keep customer accounts safe.
Build trust with customers.
Maintain a positive brand image.
Automate fraud detection.
Prevent disputes.
WHY CHOOSE KOUNT?
Fraud protection software that goes above and beyond
How is Kount different from other fraud providers? See what sets us apart.
Complete strategy
Fraud trends come and go — which means you need a solution that can adapt to any type of threat. Whether a fraudster is conducting card testing attacks with gift card purchases or hacking into customer accounts to steal valuable information, we can detect and block it all.
Customizable policies
Change your policies at any time however you see fit. For example, you can be more lenient around the holidays. Or set up policies that allow you manually review specific gift card orders over a certain amount. No matter what, you maintain full control.
Chargeback management
Respond quickly to false fraud claims when customers forget about their gift card purchases or have buyer's remorse. Funnel your chargeback and refund data back into front-end screening so that fraudsters and opportunistic customers can't do business with you again. 
Consumer insights
With our data, you can truly get to know your customers — their likes, dislikes, propensity to spend, and more. As a result, make better decisions about who you do business with. Then target your ideal customers with personalized ads, gift card promotions, and exclusive offers.
TESTIMONIALS
Hear what our clients have to say
"If every business had Kount, fraudulent ecommerce wouldn't be nearly as lucrative to criminals. The product works, and working with Kount's customer support has been one of the best professional experiences I've had."
Mark Van Vliet
VP of Strategic Initiatives
"The best thing about Kount is its versatility. Using counter functions, custom data fields, and a robust dataset — it's possible to customize fraud screening to your specific needs, targeting traffic that is truly high-risk."
Stuart W.
Lead E-Commerce Fraud Analyst
"Implementing the Kount fraud solution was very simple. And achieving these great results in such a short time has exceeded our expectations."
QUESTIONS & ANSWERS
Frequently asked questions about gift card fraud
Gift card fraud is appealing for fraudsters because it is unlikely they will ever be caught. The only way a gift card could be traced is through receipts for purchases. And e-gift cards can only be traced back to a specific person if they are tied to personal identifying information (PII). However, fraudsters will most likely falsify their PII.
What you can do is require customers to make an account with you to checkout. That way, you deter fraudsters that are trying to make a profit or are attempting a card testing attack.
And when someone does try to purchase gift cards, conduct regular fraud checks just like you would for any other purchase. Collect as much personal information as possible. The main goal is to try to stop the fraud before it happens. But if you can't, collecting data can help you make sure the fraudster can't come back and do it again.
Yes. Fraudsters can hack into a company's database and steal gift card numbers and activation codes. That's why it's important to educate your employees on phishing scams and implement security protocols for your internal systems.
You have a couple options: honor the request and refund the customer or deny a refund and risk the customer filing a dispute.
Often, the easier choice is to refund the customer. However, there are instances where denying the request may benefit you. And that's if you strongly suspect the request is friendly fraud.
How can you tell for sure? Check your data. See if this person has shopped with you before. Then look at whether or not their data elements match past purchases — IP address, card number, etc. If the data matches, it could be that the customer is making a false claim.
And if you think it's friendly fraud, you are well within your rights to deny the request. But you risk a chargeback. So evaluate the customer's lifetime value (CLV), the current state of your brand's reputation, and your chargeback-to-transaction ratio to determine if the risk is worth it for your business.
Yes. Despite the risks, digital gift cards are a great way to increase revenue — especially during the holidays. Customers often spend more than the gift card balance, forget about their gift cards completely, or don't use the full gift card balance. No matter what, you still make extra profit.
It comes down to having the right protection in place. Offering gift cards doesn't have to be risky. And Kount can make sure of that.
GET STARTED TODAY
Prevent gift card fraud with fraud detection software
Thousands of companies from all over the world use Kount's payment fraud protection software to stop gift card fraud. Will you be next? Sign up for a demo today, and see what it's like to have confidence in every interaction. 
---
Image

Schedule a demo
Your content has been unlocked!
Please enjoy your unlocked content below!
MORE THAN GIFT CARD FRAUD
Trust and safety solutions that do it all
We take a complete approach to online fraud prevention. From the beginning to the end of the customer journey, we keep you and your consumers fully protected.
DETECT & PREVENT
Common gift card scams
Most gift card scams involve a fraudster pretending to be an authority figure and convincing the victim to buy gift cards as payment for services. If you offer gift cards, make your customers are aware of these schemes. Doing so could prevent them from being lured into a fraud scheme. And properly training your staff, acting quickly when threats are detected, and quickly making adjustments can go along ways towards protecting your business. 
Elder fraud scams 
Most often, older adults are the target of gift card scams. Fraudsters use a variety of tactics to convince their victims to purchase large gift card amounts. Usually, they prey on these victims' lack of knowledge about technology, their social isolation, and their emotions.
Google Play scams 
Some fraudsters specifically request Google Play gift cards from their victims. For example, in one scenario they may claim to be a family member in a dire situation or the attorney of a family member who is in trouble. They then request the victim to pay them in gift cards to remedy the situation. Fraudsters may even demand that the victim purchase the gift cards from a specific store. That means your business could become a target.
Government agency scams 
In this scam, fraudsters pretend to be government employees and request funds from a victim in the form of gift cards. For example, they might tell the victim they are from the IRS or Social Security Administration and are reaching out about a payment issue. Then, the gift cards scammers will demand the victim send gift cards as payment for back taxes or other legal problems.
Sweepstakes and prize scams 
During this scheme, fraudsters contact their victims and tell them they've won a prize or sweepstakes. But the winnings come with a small catch. Before victims can claim the prize, they must pay fees or shipping costs with gift cards.
Tech support scams 
In this scam, fraudsters claim to be a tech support employee from a software company. They may call their victims or send an email offering to fix a problem or install virus protection software on the victim's computer. In return, the fraudster requests that the victim makes gift card payments for the services. 
Utility scams 
In this scenario, fraudsters claim to be an employee from a utility company — such as a water or power company. They tell victims that there's an issue with the monthly bill. Then, the fraudsters will threaten to cut off the utility service unless the victim pays the remaining account balance in gift cards.
TIPS & SUGGESTIONS
How to safely offer gift cards online
Digital gift cards can be risky. But they don't have to be! You can provide safer ways for customers to purchase them. Check out our top three tips to learn how.
1.
Require more information from customers
When customers buy digital gift cards, ask for more information like physical address, billing address, and email. Fraudsters get away with gift card fraud because they don't have to provide this information. Requiring it would help reduce issues like payment fraud and chargeback fraud.
2.
Add identity verification steps
Gift card fraud often happens at the point of redemption. You can counteract this by implementing multi-factor authentication for unknown customers and passive authentication for known customers. You can also consider requiring customers to create or sign in to an account to redeem a gift card.
3.
Place limits on certain gift card purchases
You can reduce bot-related attacks or elder scams simply by putting limits on the number of gift cards a customer can purchase and the amount of money they can put on the card. In regular shopping periods, it's unlikely that a legitimate customer would buy hundreds of gift cards within an hour. And it's even more unlikely that they would buy gift cards for $1,000 or more.
During the holidays, however, legitimate customers mgiht make a few gift cards purchases for thousands of dollars. You can change your policies to be more lenient during peak holiday shopping seasons, then change them back afterwards.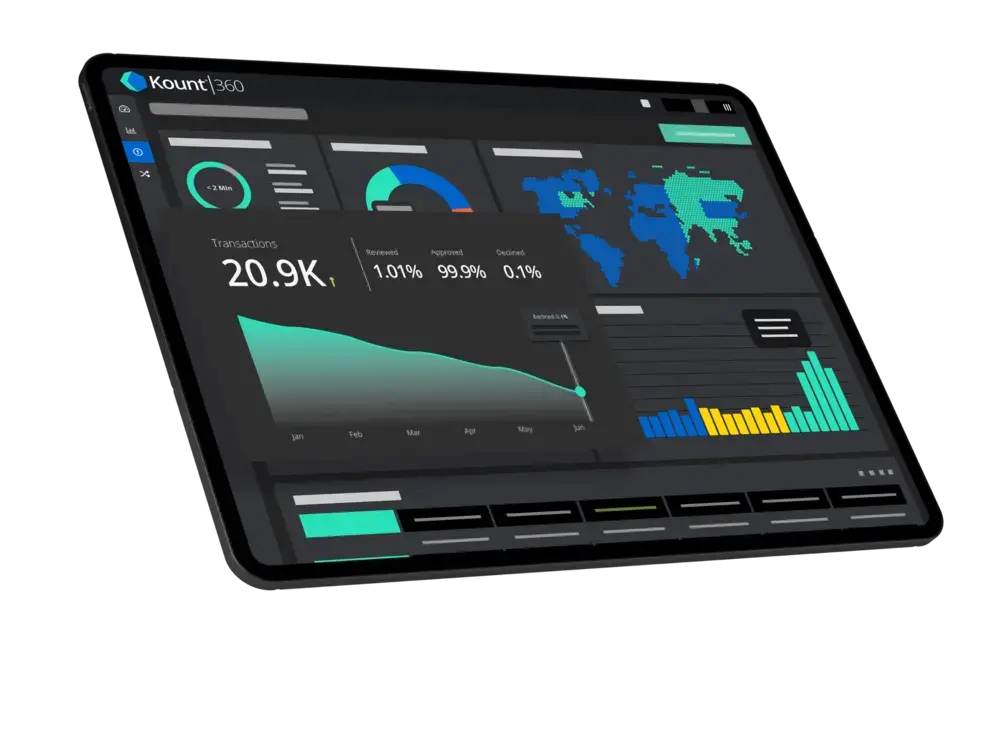 GET STARTED
Stop gift card fraud today
Tired of fraudsters damaging your bottom line? Want an accurate way to avoid gift card scams without increasing manual reviews? Kount can help. Sign up for a demo today to learn more about detecting and preventing gift card fraud.