EBOOK
Shopify Merchants: Everything You Need to Know About Chargebacks
If you process payments through Shopify, you are at risk of getting chargebacks — in other words, of losing your hard-earned revenue. Don't let unfair and invalid chargebacks take that money away from you. Read all about Shopify chargebacks so you can take a proactive approach to protecting your business.
This guide will help you:
Protect your revenue
Simplify fraud and chargeback processes
Safely grow your business
Get Your Shopify ebook
Your content has been unlocked!
Please enjoy your unlocked content below!
Shopify Chargebacks: 5 Things You Need to Know
Shopify is an ecommerce platform that enables merchants to sell products online. Merchants can use Shopify to quickly and easily launch an online storefront, market products, and effectively grow an ecommerce business. While there are many benefits of using Shopify, there are a few drawbacks — specifically if you use Shopify payments as your payment processor. Check out the potential risks and the best strategies for managing them.
1. If you use Shopify to process payments, your business is at risk for chargebacks.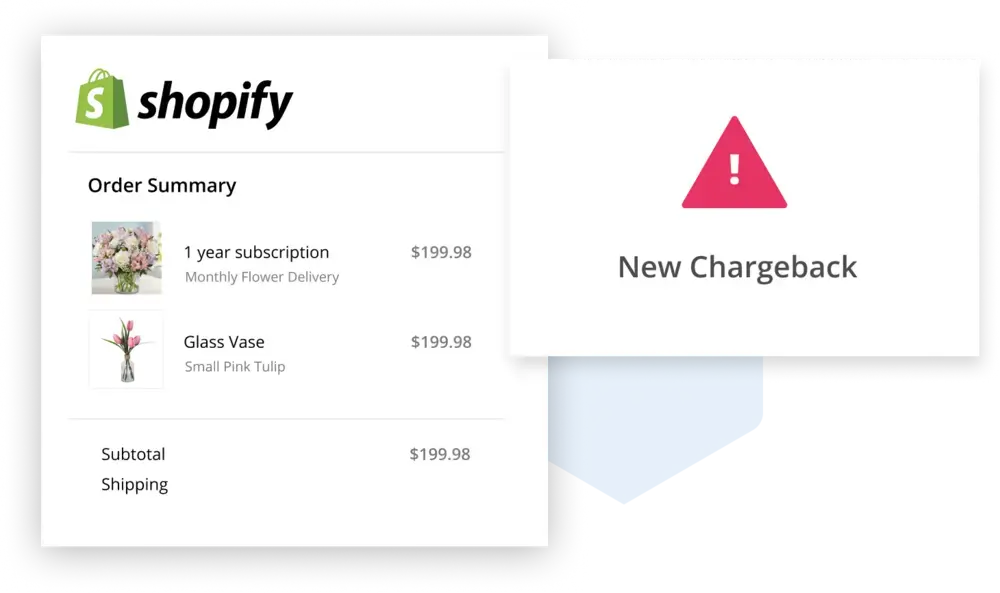 Any business that accepts payment cards is at risk of receiving a chargeback, and merchants who sell on Shopify are no different. 
A chargeback is a transaction reversal. It reverses the original purchase by revoking funds that were paid to your business and returning them to the cardholder.
There are several reasons why a transaction might be reversed. For example, maybe the customer ordered a red sweater but received a blue sweater. Or perhaps a fraudster used stolen payment information to make an unauthorized purchase.
2. Chargebacks can cause you to lose revenue.  
Each time a transaction is disputed, your hard-earned revenue is returned to the cardholder. This can obviously cause major damage to your bottom line — especially if chargeback activity increases as your business grows. 
If you use Shopify Payments, the chargeback amount — and applicable fees — are deducted from your next available payout. If your payout doesn't have enough funds to cover the total cost of your chargebacks, Shopify will do one of the following depending on where your business is located.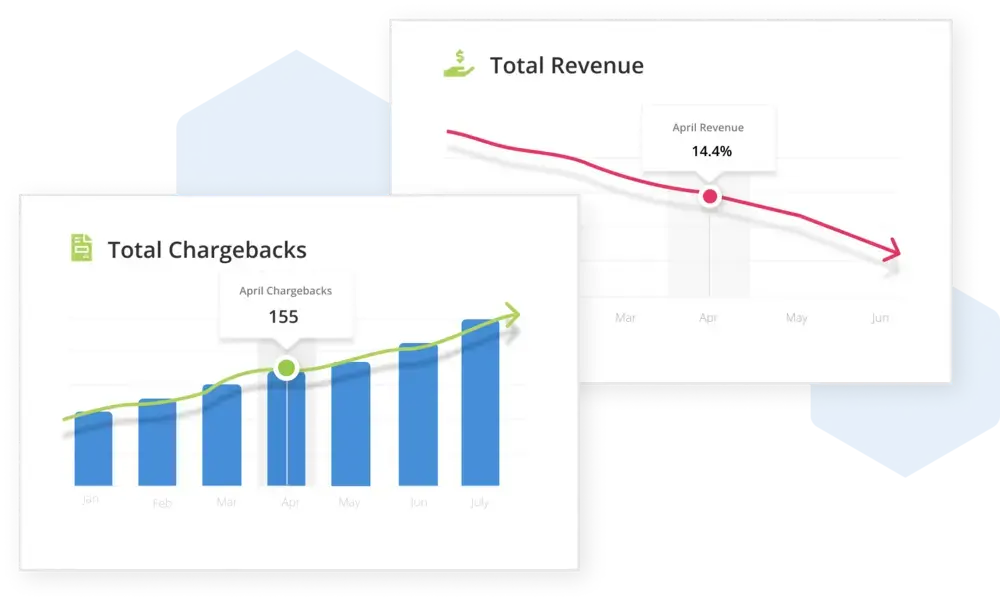 U.S., Canada, and Australia
The chargeback balance is debited from your bank account on the day of the payout.
Austria, Denmark, Germany, Hong Kong SAR, Ireland, Italy, The Netherlands, New Zealand, Singapore, Spain, Sweden, and the U.K.
The remainder of the chargeback balance is deducted from the next (and subsequent) payout until it has been paid in full.
3. Each chargeback comes with a fee. 
Upon receiving a chargeback, you'll be assessed a chargeback fee. This fee is outlined in your merchant service agreement and isn't usually refundable — even if you win the chargeback.
If you use Shopify Payments, chargeback fees are:
| | |
| --- | --- |
| Country | Shopify Payments Chargeback Fee |
| Australia | 25 AUD |
| Canada | 15 CAD |
| Austria, Belgium, Denmark, Germany, Italy, The Netherlands, and Spain | 15 EUR |
| Ireland | 15 EUR plus 23% VAT |
| Hong Kong SAR | 85 HKD |
| Japan | 1,300 JPY |
| New Zealand | 20 NZD |
| Singapore | 15 SGD |
| Sweden | 15 EUR or 150 SEK (based on payment currency) |
| United Kingdom | 10 GBP |
| United States | 15 USD |
The above chargeback fees are accurate as of this guide's publishing date. However, rates may change unexpectedly. Pay attention to any alerts or notices Shopify sends you, or check the chargebacks and inquiries resource for up-to-date information.
4. Shopify might revoke your payment processing capabilities if your chargeback-to-transaction ratio is too high. 
The card brands (Visa®, Mastercard®, etc.) carefully monitor the risks associated with each business that processes payment card transactions. There are several different risk metrics that the card brands keep an eye on, and the monthly chargeback-to-transaction ratio is one of them.
Shopify is required to calculate and monitor your chargeback-to-transaction ratios on a monthly basis. Here's how the ratio is calculated.
Visa, American Express, and Discover
Image

Mastercard
Image

The card brands have set thresholds, or limits, that merchants need to abide by. Usually, a chargeback-to-transaction ratio needs to be below 1% per month. 
If your chargeback activity is above the acceptable limit, Shopify is required to place you in a monitoring program with additional fees and penalties. If the situation doesn't improve, Shopify has the right to close your bank account and revoke payment processing privileges.
5. Shopify has built-in fraud and chargeback protections — but they aren't enough. 
You can block known fraudsters and mitigate chargebacks with Shopify's protections. However, these fraud prevention options come with some limitations.
Shopify's fraud prevention feature
Shopify offers a fraud analysis tool to help you identify fraudulent transactions. The level of protection you receive depends on the Shopify plan you have and whether or not you use Shopify Payments.
There are three things Shopify could potentially provide to help you minimize fraud: 
Indicators: Shopify can alert you to activity or information that seems suspicious. Some example indicators include AVS response codes, CVV response codes, IP address details, and more. Indicators are marked green (good signals), red (suspicious signals), or grey (helpful insights), making it easy to assess risk at a glance. 
Support for third-party apps: Shopify operates an app store that connects businesses to integrated service providers. 
Fraud recommendations: Shopify will inform you if an order has a low, medium, or high risk of fraud. A warning symbol on the Orders page identifies medium and high risk orders. 
Features are accessible by the following plan types.
| | | |
| --- | --- | --- |
|   | Basic Shopify plan without Shopify Payments  | Shopify plan or higher and all plans with Shopify Payments |
| Indicators | ✔ | ✔ |
| Third-party apps | ✔ | ✔ |
| Fraud recommendations | ✘ | ✔ |
On the surface, these features might seem sufficient in the fight against payment fraud. However, the Shopify offerings come with many limitations.
DRAWBACK #1
You need to be familiar with fraud schemes and understand signs of fraudulent behavior so you can make accurate approval decisions. If you aren't able to accurately assess risk, you'll either let fraudsters through your defenses or inadvertently block good customers. 
DRAWBACK #2
Fraud detection technology usually comes with the ability to approve or decline transactions based on pre-set rules. But with Shopify, rule types are limited. You can't set rules across multiple parameters — such as billing and shipping.
DRAWBACK #3
Automation can increase efficiency. But Shopify's solution can't completely eliminate manual labor. 
You have to spend time manually reviewing orders — checking IP addresses, calling customers, or verifying billing and shipping addresses match. If you run a small business, this may take a lot of time away from growth and strategy.
Shopify chargeback protection feature
Certain merchants that use Shop Pay can activate Shopify Protect, a beta product designed to minimize the impact of chargebacks.
The Shopify Protect algorithm uses data collected across the Shopify network to identify and prevent fraudulent transactions from taking place. If a customer files a chargeback due to fraud or doesn't recognize the order — and the order is eligible for coverage under Shopify Protect — you will be reimbursed for the total order cost and chargeback fee.
For an order to be eligible for Shopify Protect coverage, it must:
Be a physical item that requires shipping
Be processed through Shop Pay
Be purchased from a merchant in the U.S. with a valid U.S. Shopify Payments account
Be fulfilled within 7 days of the order taking place and in transit to the customer within 10 days
Have a valid tracking number from Shopify Fulfillment Network, USPS, UPS, Canada Post, DHL Express, or FedEx either directly or through Shopify Shipping
Basically, Shopify Protect is a type of chargeback insurance. And like any insurance policy, there are drawbacks. 
DRAWBACK #1
The appeal of Shopify Protect is the financial reimbursement. If you receive a chargeback for an applicable purchase, you'll be refunded the chargeback amount and the associated fee. 
While your revenue may be protected, your ratio isn't. All chargebacks, even those covered by Shopify Protect, will negatively impact your chargeback-to-transaction ratio. And a high chargeback-to-transaction ratio could cost you your business. 
DRAWBACK #2
The reimbursement feature is appealing, but it's limited. Even if you do use Shopify Protect, you're still liable for chargebacks stemming from:
Digital orders
In-store pickup purchases
International orders
Custom orders that can take more than 7 days to fulfill
Non-fraud-related disputes
DRAWBACK #3
To limit Shopify's risk exposure, the screening process may result in a high number of false positives (good orders incorrectly flagged as fraud). 
This can negatively impact your revenue and customer perceptions of your brand.
Shopify chargeback response feature
If you use Shopify Payments, Shopify will automatically respond to a chargeback on the due date if you haven't done it yourself. 
This automation might seem appealing. However, it has severe limitations. 
DRAWBACK
Chargeback responses submitted by Shopify are populated with data from within Shopify's system. However, Shopify probably doesn't have all the documents or insights needed to win. 
For example, Shopify's technology doesn't know the unique nuances of your business. And it probably doesn't have access to every single detail related to the transaction in question. 
Incomplete responses have a low probability of winning. And if your chargeback responses don't win, a lot of your hard-earned revenue is in jeopardy.
---
A better approach to managing Shopify fraud and chargebacks
Handling fraud and chargebacks can be a difficult task, especially for a new or growing business. Fortunately, you don't have to do it alone. Kount can help. 
Kount is trust and safety technology with proven-effective solutions for fraud and chargebacks. We help merchants of all sizes in all industries protect revenue and grow their business. 
What's it like working with Kount?
Options to get up and running with just a click of a button
Zero technical know-how required
Low-cost strategy with per-interaction pricing
Efficient, tech-driven processes with no manual labor
Immediate results with maximum revenue protection
We are ready and willing to help you with whatever chargeback challenges you are dealing with. Simply activate Kount in the Shopify app store, and your protection will start in a matter of minutes.